Vote Hemp, a 501(c)(4) lobbying organization, depends entirely on contributions, bequests, in-kind donations from supporters like you to do our work. Contributions to Vote Hemp are not tax-deductible as charitable contributions. If you would like to make a tax-deductible donation to our affiliated educational foundation, contact us at: .

See our list of gifts that are available in exchange for your generous contribution.



We accept Visa, Mastercard, American Express, Discover, Novus and Optima cards.
You can also donate via PayPal or postal mail (please see below).
If you are mailing us a check please include a note, and if you would like the donation gift(s), please let us know what you would like to receive. If you would like all of your donation to go towards funding Vote Hemp's work and would not like to receive any donation gifts write "No gifts, please." An email address to correspond with you is especially helpful. If you are donating via PayPal, please click on the PayPal button below to go to our PayPal donations page.

If you prefer to mail a check or money order, please send it to:
Vote Hemp
P.O. Box 1571
Brattleboro, VT 05302
When you make your donation online, you will receive a confirmation from our credit card processor indicating that your card has been charged. You will then receive another personal confirmation from us within 48-72 hours. When you receive the second confirmation, we will ask for any needed information such as your DVD choice.
We will try to ship your gift(s) within two weeks, but please allow four to six weeks. If you have any questions about your gift(s) or donation, contact us at: .
Note: Donors outside of the U.S. and Canada, if you want a gift, please add an extra $10 to your donation to cover the cost of shipping and handling. We do not ship the
Dr. Bronner's soap sampler outside the U.S. and Canada.
"Industrial Hemp - Our Heritage, Our Future"
poster set
This set of two promotional 11"x17" posters is specially designed
for Vote Hemp by Knacka, knacka.com.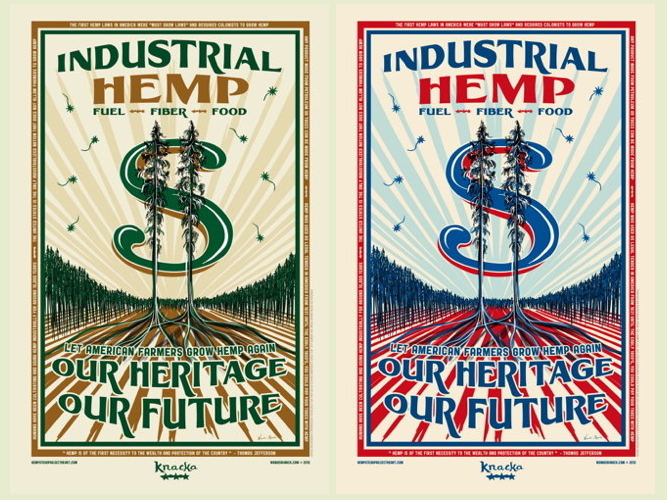 Our gift to you for a donation of $25 or more.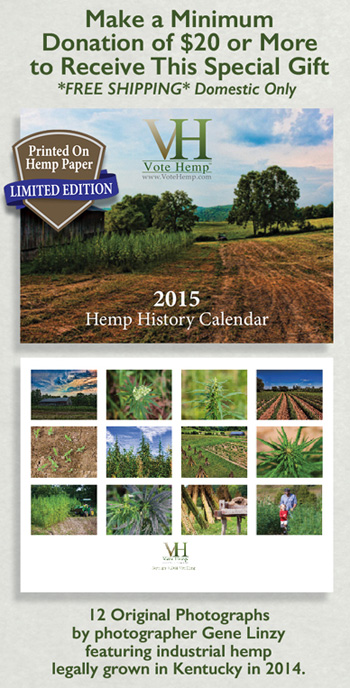 Click on the Calendar to learn more.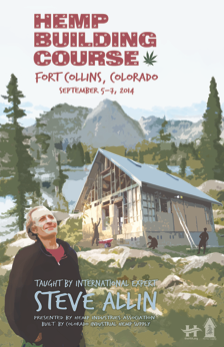 Our gift to you for a donation of $30 or more.
12 x 18 Hemp Building Course, featuring Steve Allin
Commemorative Event Poster on hemp paper - Numbered & Signed, Limited Edition
"Bringing it Home" DVD - NEW ITEM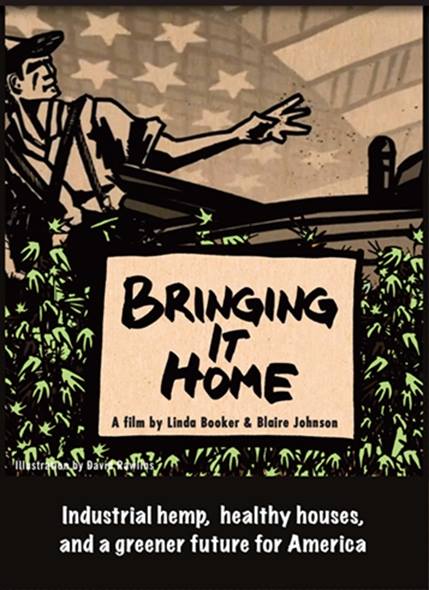 Our gift to you for a donation of $50.

---

"Building with Hemp" by Steve Allin

This is the second edition of the inspiring pre-eminent book on the revolutionary system of hemp building. Updated to include both the origins of the system and the latest developments and projects, it now has over 340 colour photographs and illustrations. With chapters that focus on everything from the materials and how they are produced to the finishes possible, the 'How To' section has been expanded and covers all aspects of the utilization of hemp materials for building.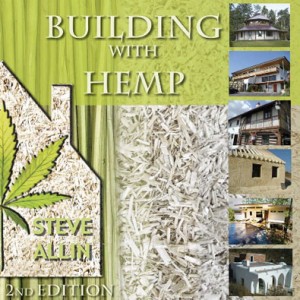 Our gift to you for a donation of $90.
---
Dr. Bronner's Magic Soaps Sampler Pack
Dr. Bronner's Magic Soaps are some of the coolest hemp products on the market. The sampler pack includes eight assorted 8 oz. bottles of Dr. Bronner's organic and fair trade hemp oil liquid castile soap plus a bottle of their hemp lotion, our gift to you for a donation of $120.



---


PollockPrints Vote Hemp Poster


| | |
| --- | --- |
| | This rare PollockPrints Vote Hemp Poster, printed on hemp content paper by Jim Pollock, comes from the numbered series of 600 and is for the serious collector. Please feel free to contact us to inquire about the number of the print currently being offered and any other questions that you may have. At this donation level you can also get one of the three DVDs we offer, the "Let U.S. Farmers Grow Industrial Hemp" poster set, the "Hemp for Victory" poster set, and the free sampler case of assorted Dr. Bronner's Magic Soaps. These are our gifts to you for a donation of $300. |
To read the Vote Hemp privacy policy, click here.
Thanks for your interest and support!