On this page we will explore a myth from Dr. Dave's Industrial Hemp Archives, Hemp and Marijuana: Myths & Realities that law enforcement commonly uses to misdirect the media and legislators.
Myth: Industrial Hemp fields would be used to hide marijuana plants.
Reality: Industrial Hemp is grown quite differently from marijuana. Moreover, it is harvested at a different time than marijuana. Finally, cross-pollination between hemp plants and marijuana plants would significantly reduce the potency of the marijuana plant.
The argument that you can't tell the the different varieties or cultivars of Cannabis apart is a straw man that law enforcement and their lobbyists expect hemp farming supporters to try and knock down. The simple truth is that all you need to tell the difference is GPS coordinates of the farmer's hemp fields and certified oilseed-type or fiber-type varieties grown as you would an agricultural oilseed crop or a fiber crop.
The laws and regulations for resuming hemp farming and processing in the U.S. really need be no more onerous than the record keeping requirements for growing an organic crop and include just what's needed to overcome legitimate law enforcement concerns, without being too costly or burdensome for farmers and processors.
Industrial hemp is an agricultural crop.
Drug varieties of Cannabis are a horticultural crop.
Industrial hemp is varieties of Cannabis that are low in THC and high in CBD.
Oilseed and fiber varieties of Cannabis are also known as industrial hemp.
You can not get drugs from oilseed or fiber varieties of Cannabis.
Oilseed, fiber, and drug varieties of Cannabis are grown at different densities.
The different varieties are harvested at different times.
Drug varieties of Cannabis can not be grown with oilseed or fiber varieties without being easily spotted.
Drug varieties are grown much like a Christmas tree farm, with its spacing, pruning and early harvest, whereas the oilseed and fiber varieties are grown more like pulp wood trees.
Drug varieties grown in the middle of a fiber hemp crop would become seeded. A fiber crop is harvested when the males shed their pollen, so the pot grower would be left with a lower-value crop of seeded buds (the female flowers) in the middle of a field of stubble.
Drug varieties grown in the middle of an oilseed hemp crop would become seeded as well. The female hemp plants would become pollinated, along with the pot, and the male hemp plants would die. As the seeds ripen in the hemp the pot would become more obvious because it's still green and a much lower density.
You would be much better off growing pot in a corn field as it's location is not registered with the agriculture department and law enforcement by GPS coordinates plus you can walk in between the rows of corn, unlike very dense hemp crops.
You wouldn't want to ban corn because of this, would you?
Also, there is a misconception that drug varieties are the female plant and hemp is the male. This is incorrect. Industrial hemp is varieties of Cannabis that are low in THC and high in CBD, both male and female plants, which are known as dioecious varieties, as well as monoecious varieties, which have both male and female flowers on the same plant, such as the early grain variety Anka.
Let's go into more detail.
---
Varieties of Cannabis that are high in THC and low in CBD, when grown for their flowering tops and leaves as a drug, is a horticultural crop. There is a lot of tending and hand-work in the fields. Other varieties of Cannabis that are low in THC and high in CBD, when grown for their seeds or fiber, is an agricultural crop. Agricultural hemp if you were.
Drug-type varieties grown as a drug crop will get you drugs. Fiber-type varieties grown as a fiber crop will get you fiber. Oilseed-type varieties grown as an oilseed crop will get you oilseed. Dual purpose oilseed/fiber-type varieties grown as a dual purpose crop will get you oilseed and fiber. If you grow an oilseed-type variety, fiber-type variety, and/or a dual purpose oilseed/fiber-type variety as you would a drug crop you won't get drugs. It's a simple agronomic fact. It's all about growing the correct variety in the manner needed to produce the end product that you are trying to get. The seeding rates for hemp are measured in pounds per acre and for drug varieties seed is measured in ounces per acre. Common seeding rates are 20-30 pounds per acre for oilseed varieties for grain and 60-90 pounds per acre for fiber varieties. Drug varieties of Cannabis are seeded at a rate of about 18-48 ounces per acre.
Please also note that with drug varieties a little less than half the plants will be pulled up or cut down as they are males. The drug marijuana, known in most of the English speaking world as cannabis, is the flowering tops of the female plant.
According to the Saskatchewan Ministry of Agriculture the recommended seeding rate for hemp grain production in Saskatchewan is approximately 20 to 30 pounds per acre depending on variety. Finola is seeded at a higher rate of 30 pounds per acre, while USO 14, USO 31 and Crag are seeded at the lower rate of 20 pounds per acre. The intended plant density is 10 – 12 plants per square foot. The recommended seeding rate for hemp fibre production is 60 pounds per acre or approximately 30 - 35 plants per square foot. So, with drug strains of Cannabis grown at a density of one plant per square foot or less, with the males pulled, even an untrained observer would be able to see the difference in density from the ground, and especially from the air!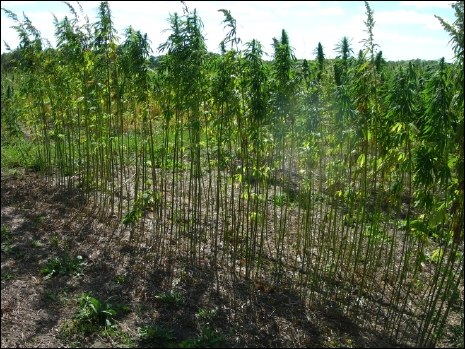 Example of planting density of oilseed hemp
Image by Luke Zigovits for VoteHemp.com
Just because you grow fiber or oilseed hemp plants the right distance apart, pull the males, prune and tend them the proper way, and manicure, trim and cure the resulting buds does not mean that you will get a drug product. It is in effect no more than tended ditchweed. Too much CBD and very little THC. If you smoke it you will get nothing more than if you were to smoke corn silk or oregano.
Early in the last century the USDA clearly understood the difference between oilseed, fiber and drug varieties. There was a listing for drug Cannabis that was in the April 1927 printing of the USDA Farmers' Bulletin No. 663, "Drug Plants Under Cultivation." Please notice how far apart they have you growing the plants, how they are tended, and that the USDA even recommends pulling the males. Yes, seedless female flowers! This published advice reinforces a 1913 letter sent by W.W. Stockberger, Physiologist in Charge of Drug Plant Investigations, USDA, in response to an inquiry regarding Cannabis. This is the kind of crop that you would end up with: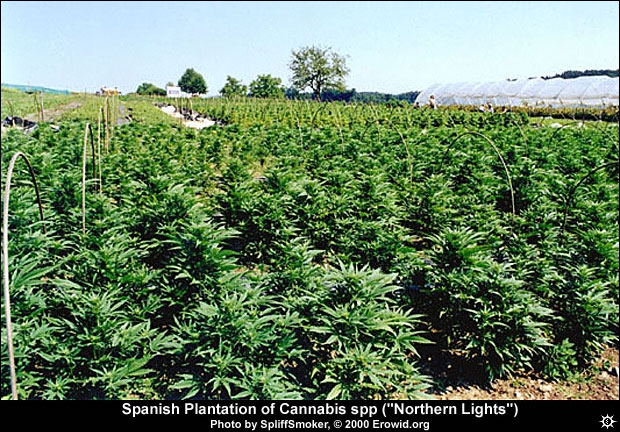 Drug-type variety of Cannabis
Image courtesy Erowid.org
Hemp farming in Canada is well regulated by Health Canada ensuring that only legitimate farmers are licensed and that they only grow government approved low-THC hemp. Requirements include applicant background checks, GPS coordinates of hemp fields, the use of varieties of approved low-THC certified hemp seed purchased from licensed seed vendors, and random inspections and testing. This licensing scheme ensures that farmers are only growing non-drug industrial hemp and not marijuana. Even though law enforcement is able to distinguish the difference between hemp and marijuana, the licensing process eliminates the need for them to visually distinguish between industrial hemp and it psychoactive drug varieties.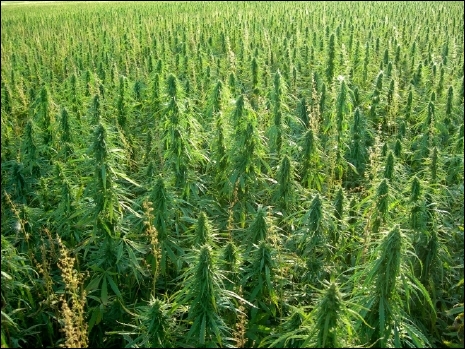 Female oilseed hemp with males
Image by Luke Zigovits for VoteHemp.com
Industrial hemp plants have long and strong stalks, have few branches, have been bred for maximum production of fiber and/or seed, and grow up to 16 feet in height. They are planted in high densities of 100 to 300 plants per square yard. On the other hand, drug varieties of Cannabis are shorter, are not allowed to go to seed, and have been bred to maximize branching and thus leaves and flowers. They are planted much less densely to promote bushiness. The drug and non-drug varieties are harvested at different times, and planting densities would look very different from the air.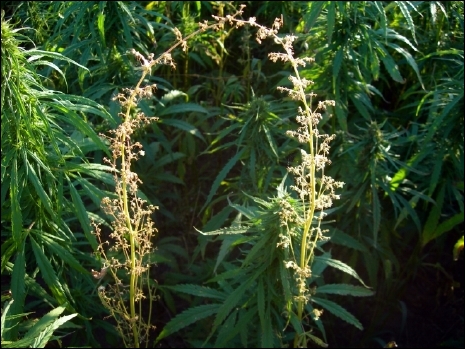 Close-up of the male plants
Image by Luke Zigovits for VoteHemp.com
If a hemp field was used to grow drug varieties the grower would need to cut or trample a path to the prospective grow area, unlike corn fields where you can already walk in between the rows, and would also be easily visible in ariel surveillance. The male plants, around 50% of the population of a hemp field, would also cause the drug varieties to go to seed thus lowering their value as a drug crop.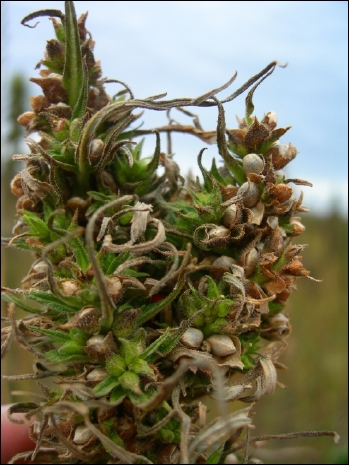 Hemp seed at harvest, oilseed variety
Image by Luke Zigovits for VoteHemp.com
The USDA used to have an extensive hemp breeding program run by Lyster H. Dewey until he retired in the 1930s. There used to be many commercial hemp varieties that were grown in the U.S. They had names like Michigan Early, Minnesota No. 8, and Simple Leaf. Hemp varieties like Arlington, Ferramington, Chinamington, Chington, Kymington, and Tochimington, which were bred in the USDA program, are now lost forever, as is noted in Chapter 10 of "Fiber Wars: The Extinction of Kentucky Hemp" by David P. West, Ph.D.
There are many varieties, or cultivars, of hemp that are currently grown or maintained in seed banks around the world.
Some of the most common cultivars being grown in Canada, in order of predominance are: USO 14, Finola (formerly FIN 314), Crag, USO 31, Alyssa, and Felina 34. These are all on the Health Canada List of Approved Cultivars. The 2007 List of Approved Cultivars (PDF file 170k), as the lists before it, are based on the Organization for Economic Co-operation and Development (OECD) List of varieties eligible for certification. Cannabis is listed in the list of "Crucifers and other oil or fibre species." (PDF file 236K) The OECD is a worldwide economic development organization based in Paris, France and was founded in 1961. The United States is one of the 30 member countries.
The germplasm collection of Cannabis preserved at the N.I.Vavilov Research Institute of Plant Industry (VIR) is believed to be the largest in the world. Before WWII the VIR collection had 1400 accessions, but because of a variety of reasons the collection now only has around 491 accessions. If you would like to learn more about hemp at the VIR we suggest that you read the informational page by Dr. Sergey Grigoryev "The history of cultivation of hemp in Russia."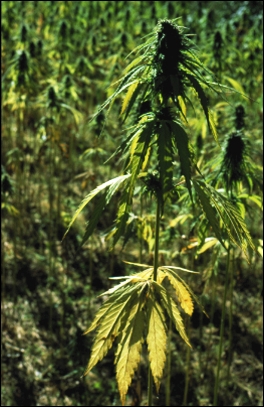 Mature female Finola, an oilseed variety; note the lack of branching
Image courtesy of Dr. J.C. Callaway, breeder and owner of the Finola variety
One of the recent success stories is that the oilseed variety Finola was bred by Dr. J.C. Callaway of Finland with germplasm from VIR and is now grown in many northern countries. Finola has an optimum balance of omega 3 and omega 6 fatty acids and it has more GLA and SDA fatty acids than other oilseed varieties. Finola is the earliest maturing variety of hemp and has also been shown to produce more seed than any other variety. Moreover, its short stature allows for easy harvesting.
If you would like to learn more about farming hemp, we ask that you read some of the farming guides in the archive on our Canada page. The guide Hemp Production in Saskatchewan (PDF file 253k) is one of the latest and most in depth.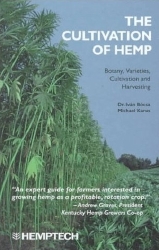 Recommended reading: "The Cultivation of Hemp: Botany, Varieties, Cultivation and Harvesting" by Dr. Ivan Bocsa and Michael Karus, HEMPTECH, March 1998. The book is out of print, but it can be found on used book sites like AbeBooks.com or Half.com.
The draft genome and transcriptome of Cannabis sativa,em>
Harm van Bakel, Jake M Stout, Atina G Cote, Carling M Tallon, Andrew G Sharpe, Timothy R Hughes, and Jonathan E Page
Genome Biology (Volume 12, Issue 10 2011)
(PDF file 3.3MB)
Genetic variation in hemp and marijuana (Cannabis sativa L.) according to amplified fragment length polymorphisms
Datwyler, S. L. & G. D. Weiblen
Journal of Forensic Sciences (#51, pages 371-375, 2006)
(PDF file 96k)
Variations of tetrahydrocannabinol content in cannabis plants to distinguish the fibre-type from drug-type plants
U. Avico, R. Pacifici, P. Zuccaro
UNODC Bulletin on Narcotics (#4, pages 61-65, 1985)
(HTML)
HEMP
By Lyster H. Dewey
From the Yearbook of the United States Department of Agriculture - 1913
Government Printing Office, 1914
72 pages
(PDF file 1.8MB)