The letter below is from Rep. Joe Walsh to a Vote Hemp supporter in reply to a letter asking him to become a cosponsor of the Industrial Hemp Farming Act of 2011.


Rep. Joe Walsh
(R-IL 8th District)
If you receive a reply from one of your elected representatives please email a copy of it to us at hempinfo@votehemp.com. It will help with our lobbying efforts to know the contents of these letters. We will not publish your name or address and hold them in confidence.
---
July 17, 2012
Dear Constituent,
Thank you for contacting me regarding H.R. 1831, the Industrial Hemp Farming Act.  I appreciate you taking the time to share your views.
As you may know, Rep. Ron Paul (TX-14) introduced H.R. 1831 in May 2011.  This bill would define industrial hemp to allow farmers to grow industrial hemp in accordance with state laws.
H.R. 1831 has been referred to House Committee on Energy and Commerce and the House Committee on Judiciary, and though I do not serve on either committee please rest assured that I will keep your comments in mind should this or any similar measure come to the House floor for a vote.
Again, thank you for contacting me. It is a privilege and an honor to serve you. Please feel free to visit my website at walsh.house.gov to sign-up for email newsletter updates on issues that are important to you.
I work for you,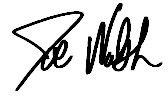 Joe Walsh
Member of Congress