Hemp Farming in California Closer to Reality!
SB 676 Passes the Senate on a Vote of 22 to 14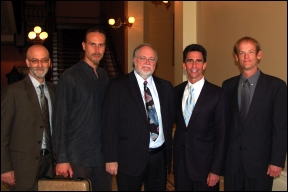 Dear Reader,
On May 18th the California Senate voted
22 to 14
to pass SB 676, the hemp farming bill. The bill has now been sent to the Assembly. On Tuesday SB 676 passed out of the Public Safety Committee on a
5 to 2
vote! There are several more committee hearings yet to come, but we are very optimistic that SB 676 will pass the full Assembly and go to the Governor's desk for his signature.
Left to Right: Patrick Goggin, David Bronner,
Bob McFarland, Senator Mark Leno and David Piller
So far we have been able to move the bill due to strong lobbying. Vote Hemp has sent representatives to each of the five County Farm Bureaus where the program would take place. Last week the Imperial County Farm Bureau sent a letter of support to the legislature. We also attend each of the hearings and do lobbying.

We have been able to do this thanks to your generous support, but we need your help to reach the finish line. Vote Hemp's ultimate goal is having hemp grown on a commercial scale in the U.S. once again and for the crop to be able to be processed here as well.
Please consider making a donation today.
For an even bigger impact, Dr. Bronner's Magic Soaps has generously agreed to match every dollar you donate,
doubling the impact of your contribution
. Please make a donation now. Every dollar helps.
Please
forward
this email to your friends and family so they can follow our progress and consider making a
donation
too. Thank you in advance for all that you do for the cause.
Regards,