The letter below is from Rep. Jim Matheson to a Vote Hemp supporter in reply to a letter asking him to become an original cosponsor of the Industrial Hemp Farming Act of 2011.


Rep. Jim Matheson
D-UT 2nd District
If you receive a reply from one of your elected representatives please email a copy of it to us at hempinfo@votehemp.com. It will help with our lobbying efforts to know the contents of these letters. We will not publish your name or address and hold them in confidence.
---
May 13, 2011
Dear Constituent,
Thank you for sharing your concerns regarding industrial hemp farming. I appreciate your interest in the issues facing our country and state, and I am glad for the opportunity to respond to your inquiry. By contacting me on issues important to you, I am better able to represent Utah in Congress.
The Industrial Hemp Farming Act would create a classification for industrial hemp that is separate from the designation of marijuana. This distinct classification is necessary to allow the commercial growing of hemp, which can be used in a variety of substances including fuel, fibers, rope, clothing, food, and housing insulation.
In 2011, Congress is scheduled to reauthorize the Farm Bill, the primary law that governs our domestic agriculture policy. I believe that the Industrial Hemp Farming Act should be part of a larger discussion regarding the future of American agriculture and I will keep your support for industrial hemp in mind as debate on the Farm Bill moves forward.
Again, thank you for sharing your concerns with me. If you have any additional questions, please feel free to contact my office.
Sincerely,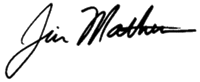 JIM MATHESON
Member of Congress