The letter below is from Rep. Pete Stark to a Vote Hemp supporter in reply to a letter asking him to become a sponsor of the Industrial Hemp Farming Act of 2011.


Rep. Pete Stark
(D-CA 13th District)
If you receive a reply from one of your elected representatives please email a copy of it to us at hempinfo@votehemp.com. It will help with our lobbying efforts to know the contents of these letters. We will not publish your name or address and hold them in confidence.
---
May 19, 2011
Dear Constituent,
Thank you for your kind email regarding my cosponsorship of the Industrial Hemp Farming Act (H.R. 1831). Hemp is a valuable agricultural commodity, with no use as a narcotic, and our farmers should be allowed to grow hemp and compete with other farmers around the world.
I hope this bill will come to the House Floor for a vote before the end of the 112th Congress.
Sincerely,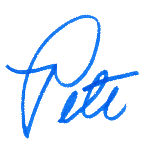 Pete Stark
Member of Congress