The letter below is from Rep. Justin Amash to a Vote Hemp supporter in reply to a letter asking him to become a cosponsor of the Industrial Hemp Farming Act of 2011.

Rep. Justin Amash
(R-MI 3rd District)
If you receive a reply from one of your elected representatives please email a copy of it to us at hempinfo@votehemp.com. It will help with our lobbying efforts to know the contents of these letters. We will not publish your name or address and hold them in confidence.
---
August 29, 2012
Dear Constituent,
Thank you for contacting my office regarding H.R. 1831, the Industrial Hemp Farming Act of 2011. I appreciate hearing your thoughts on this issue.
H.R. 1831 would amend the Controlled Substances Act to exclude industrial hemp from the definition of "marihuana." It defines "industrial hemp" to mean the plant Cannabis sativa L. and any part of such plant, whether growing or not, with a delta-nine tetrahydrocannabinol concentration of not more than 0.3 percent on a dry weight basis. The bill deems Cannabis sativa L. to meet that concentration limit if a person grows or processes it for purposes of making industrial hemp in accordance with state law.
H.R. 1831 is currently under review by the House Committee on Energy and Commerce and the House Committee on the Judiciary. Although I do not serve on either committee, I will keep your comments in mind should this legislation come before me for a vote. Thank you again for contacting me, and please feel free to contact my office if I can be of further assistance.
Sincerely,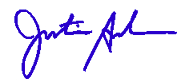 Justin Amash
United States Representative
Third District of Michigan
P.S. I explain every vote I take in the House of Representatives on my Facebook Page at http://facebook.com/repjustinamash. You can "like" my Page to receive real-time updates and interact with me while you are logged in to Facebook, or if you do not have a Facebook account, you can simply view my posts at http://facebook.com/repjustinamash.