Dear Reader,
This is a special North Dakota issue of the Weekly News Update. There is enough current news that we expect to send another regular issue later this week.

New in this issue is the work of photographer Luke Zigovits. Going forward, the Hemp Shorts section will feature his pictures of hemp. This week we will fittingly start with some hemp seedlings.
A quick reminder that Standing Silent Nation will be aired on PBS on Tuesday, July 3 at 10:00 PM (please check your local listings). If you would like an email reminder sent to you, click here and select the "Send Me A Reminder" button just below the "Watch Trailer" window.
Radio commentator Scoop Nisker has a tagline on every broadcast: "Remember, if you don't like the news, go out and make some of your own!" This is sometimes easier said than done. The news on the hemp farming lawsuit in North Dakota in this issue was almost a decade in the making, thanks to the perseverance of a few individuals. You can read more about the case on our North Dakota Legal Case page. You may also find of interest there the recording of the recent June 18 teleconference discussing the filing of the case.
Vote Hemp is funding the lawsuit, thanks to your support, and it is an example of why your donations are so vital to our efforts.
Please make a contribution to Vote Hemp today to help us continue fixing the situation here in the U.S.
We need and truly appreciate your support!
Best Regards,
Tom Murphy
Weekly News Update Editor
Weekly News Update Stories
Will the Courts Tell the DEA the Difference Between Hemp and Pot?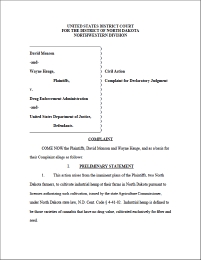 By Jacob Sullum
Reason - Hit & Run
June 22, 2007
Two North Dakota farmers, one of them a state legislator, filed a federal lawsuit this week asking for a judgment declaring that the federal Controlled Substances Act (CSA) does not prohibit their cultivation of industrial hemp. In 2005 North Dakota legalized hemp farming, but the necessary state licenses initially required approval from the U.S. Drug Enforcement Administration (DEA). This year, after it became clear that the DEA would not give its blessing to hemp cultivation, the state legislature amended the law to waive that requirement. But now would-be hemp farmers are worried that if they proceed with their plans they could face federal prosecution.
The DEA refuses to distinguish between non-psychoactive hemp, which by definition contains less than 0.3 percent THC, and marijuana, which has a THC concentration at least 10 times as high. Hemp is legally grown in many countries around the world where marijuana is prohibited, and products made from hemp fiber, seed and oil are legally sold in the United States. But because of the DEA's intransigence, the raw material for these products cannot be grown in this country without fear of arrest.
In their lawsuit, state Rep. David Monson (R-Osnabrook) and Wayne Hauge, who has a farm in Ray, North Dakota, argue that the DEA is misreading the CSA, which specifically excludes the stalks, oil and sterilized seeds of Cannabis plants from the definition of marijuana. This definition, carried over from the Marihuana Tax Act of 1937, reflects Congress' intent to allow the continued cultivation of hemp. Monson and Hauge argue that it's unreasonable to claim that Congress meant to ban industrial hemp.
ND at Center of National Hemp Fight

By Jonathan Rivoli
The Bismarck Tribune
June 22, 2007
When North Dakota farmers David Monson and Wayne Hauge filed a lawsuit against the U.S. Drug Enforcement Agency (DEA) this week over growing hemp, they said they were simply looking to even the agricultural playing field with their Canadian counterparts.
But in taking their battle to the federal courts, Monson and Hauge have placed North Dakota at the center of a national fight over whether industrial hemp should be grown in the U.S.
"This is a very big deal," said Tom Murphy, national outreach coordinator for Vote Hemp, an advocacy group that's funding the lawsuit.
2 Farmers Suing DEA over Right to Grow Hemp

By Donna Leinwand
USA TODAY
June 18, 2007
Two North Dakota farmers who want to grow hemp are filing a federal lawsuit today to challenge the Drug Enforcement Administration's (DEA) ban on the plant that is the same species that produces marijuana.
Hemp can be imported from Canada, Europe and China, but growing hemp in the USA is illegal, the DEA says.
"Hemp is marijuana," DEA spokesman Garrison Courtney says. "There's no distinguishing feature between marijuana and hemp."
Too Late to Plant Hemp, Licensed Farmers File Federal Suit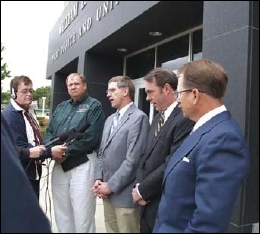 By Sue Roesler
Bismarck Farm & Ranch Guide
June 22, 2007
BISMARCK, ND — Two farmers licensed to grow hemp in North Dakota filed a lawsuit in federal district court this week attempting to keep the Drug Enforcement Administration (DEA) from charging them with a crime after they put the seed in the ground.
North Dakota Rep. Dave Monson, a legislator and wheat, barley, canola and soybean grower in northeast North Dakota, and Wayne Hauge, a barley, durum, pea, lentil, black beans and chickpea grower in northwest North Dakota, filed the lawsuit that is being paid for by Vote Hemp.
Vote Hemp is a national non-profit organization that seeks to help U.S. farmers grow hemp for economical benefits.
[More...]