Please Call Kentucky Governor Steve Beshear
Ask Him to Sign the Hemp Farming Bill SB 50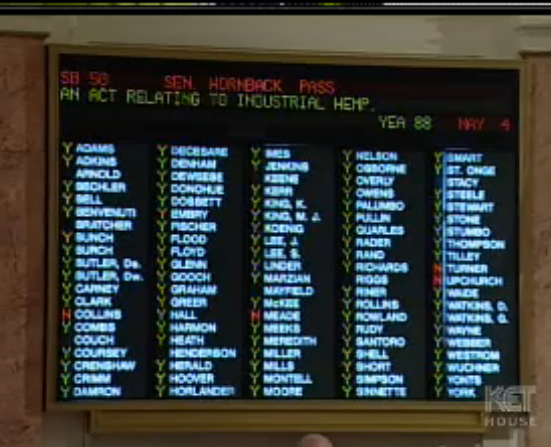 Kentucky House Vote Totals on SB 50
Dear Reader,

A little more than twelve hours ago, in the final hour of the legislative session in Kentucky, the House passed the hemp farming bill SB 50, as amended, by a vote of 88 to 4. The Senate quickly followed suit with a vote of 35 to 1 in concurrence. Speaker Greg Stumbo, who had blocked floor votes on the bill ended up voting in favor of it! The problem now is that Governor Beshear could veto the hemp bill and there is no way to override a veto since the bill was passed during the legislature's veto session. We need your help and ask that you make phone calls in support of SB 50 today!
URGENT: Please call Governor Steve Beshear at 502-564-2611 and ask him to sign the hemp farming bill SB 50. You will need to give the person who answers the phone your name and reason for calling. Once you are transfered please tell the Governor's staffer or leave a message if they are not in:
* Governor Beshear: Please sign the hemp farming bill Senate Bill 50.
If you get a fast busy signal or can't get through please consider faxing in your note of support to 502-564-2517. There is also an email form on the
Governor Beshear's Contact Page
online. Hemp will be hard to ignore, especially with the support of SB 50 by
Senator Mitch McConnell
and
Senator Rand Paul
and their cosponsorship of a hemp bill in the U.S. Senate. Congressmen Thomas Massie and John Yarmuth are cosponsors of the companion bill in the U.S. House.
When you finish leaving a message in support of industrial hemp, please pass the information and phone number to friends and family and ask them to call the Governor as well. Thank you so much for your support!