Vote Hemp 2017 U.S. Hemp Crop Report Released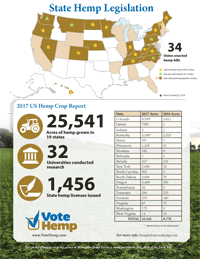 Vote Hemp has released its 2017 U.S. Hemp Crop Report which documents significant growth in hemp acreage and state hemp pilot programs. The report documents state-by-state progress of hemp legislation passed in 2017, reported acreage of hemp grown, identifies states with active hemp pilot farming programs and advocacy work the organization has lead over the past year. "We've seen hemp cultivation significantly expand in the U.S. in 2017, with over double the number of acres planted in hemp compared to last year and the addition of 4 more states with hemp pilot programs," said Eric Steenstra, President of Vote Hemp. Read more..
---
Comer Introduces Industrial Hemp Farming Act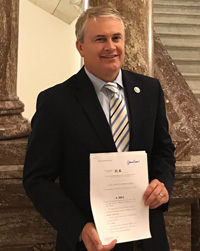 On July 28th, Rep. James Comer (R-KY) introduced H.R. 3530, a new version of the Industrial Hemp Farming Act along with 15 cosponsors. The bill gained support from Judiciary Chair Goodlatte (R-VA) and has several new provisions. We are excited about the added support which opens up a path for passage in the House this year. We are also pleased that several changes we advocated for were included in the new bill: inclusion of Native American tribes and a provision which will allow for research on hemp with THC levels of up to 0.6% THC (we advocated for more but this was the compromise). Read more..
---