Senator McConnell Introduces The Hemp Farming Act of 2018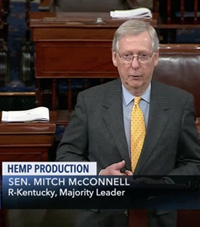 Vote Hemp, the nation's leading grassroots hemp advocacy organization working to change state and federal laws to allow commercial hemp farming, strongly supports the introduction and
advancement of The Hemp Farming Act of 2018. Introduced on April 12, by Senate Leader Mitch McConnell
(R-KY), with strong support from Senator Ron Wyden (D-OR), and further bi-partisan support from Senator
Jeff Merkley (D-OR), the Hemp Farming Act of 2018, if passed, would remove federal roadblocks to the cultivation of industrial hemp, the non-drug agricultural varieties of Cannabis. Read more..
---
Vote Hemp 2017 U.S. Hemp Crop Report Released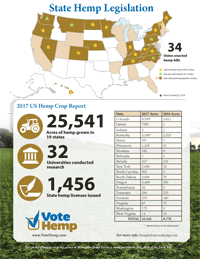 Vote Hemp has released its 2017 U.S. Hemp Crop Report which documents significant growth in hemp acreage and state hemp pilot programs. The report documents state-by-state progress of hemp legislation passed in 2017, reported acreage of hemp grown, identifies states with active hemp pilot farming programs and advocacy work the organization has lead over the past year. "We've seen hemp cultivation significantly expand in the U.S. in 2017, with over double the number of acres planted in hemp compared to last year and the addition of 4 more states with hemp pilot programs," said Eric Steenstra, President of Vote Hemp. Read more..
---