Comer Introduces Industrial Hemp Farming Act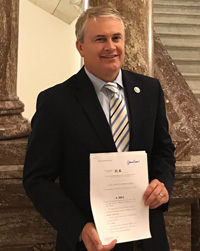 On Friday Rep. James Comer (R-KY) introduced H.R. 3530, a new version of the Industrial Hemp Farming Act along with 15 cosponsors. The bill gained support from Judiciary Chair Goodlatte (R-VA) and has several new provisions. We are excited about the added support which opens up a path for passage in the House this year. We are also pleased that several changes we advocated for were included in the new bill: inclusion of Native American tribes and a provision which will allow for research on hemp with THC levels of up to 0.6% THC (we advocated for more but this was the compromise). Read more..
---
Vote Hemp is a national, single-issue, non-profit advocacy group founded in 2000 by members of the hemp industry to remove barriers to industrial hemp farming in the U.S. through education, legislation and advocacy. We work to build grassroots support for hemp through voter education, registration and mobilization, as well as defend against any new laws, regulations or policies that would prohibit or restrict hemp trade.
Industrial hemp is the non-intoxicating, low-THC varieties of the Cannabis sativa plant. Hemp has absolutely no use as a recreational drug. Hemp is a sustainable crop which does not require any pesticides and can be grown throughout the US. Thousands of products can be made from hemp including clothing, paper, auto parts, building materials, nutritious foods, dietary supplements and more.
---