Hemp Farming in California Even Closer to Reality!
Governor Brown Can Help California Economy, Farmers and the Environment by Signing New Industrial Hemp Farming Bill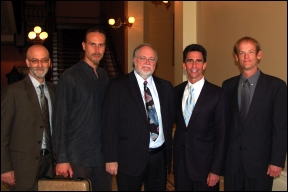 Dear Reader,
We are very happy to report that SB 676, the industrial hemp farming bill, passed its final vote in the California Senate by a
26 to 13
vote! The bill has been sent to Governor Jerry Brown for his signature. With your help we have been able to attend each of the hearings in the Senate and Assembly and do some lobbying, too. Most recently we met with people in the Governor's office. This would not have been possible without you!
Left to Right: Patrick Goggin, David Bronner,
Bob McFarland, Senator Mark Leno and David Piller
We have been able to do all of this thanks to the generous support of our supporters, like you. We still have work to do to get Governor Brown to sign the bill and we need your financial support more than ever. Please make a
donation
now. Remember, your donation will be matched by Dr. Bronner's Magic Soaps, effectively doubling it!

Please like us on
Facebook
and share our posts with your friends and follow us on
Twitter
and retweet our posts. For a list of other things you can do please see our updated
What Can I Do?
page.
You can also help us by
forwarding
this email to your friends and family so they can follow our progress and consider making a
donation
, too. Thank you in advance for all that you do for the cause.