Vote Hemp Releases 2012 Presidential Candidate Report Card
We Need Your Help to Resume Hemp Farming in the U.S.


Dear Reader,
Now that we are past the first of the presidential debates, we have released the
Vote Hemp 2012 Presidential Candidate Report Card
. In addition to giving them a letter grade, we have linked to interesting facts about the candidates that are related to hemp. Each of the candidates profiled also has a link to their candidate's page on our site, where you can email them and ask for their position on the issue of allowing hemp farming and processing in the U.S. once again.
We need your help more than ever now. During this year we have asked you to do many things and with your help we have accomplished a lot! Please make a donation to Vote Hemp today so we can continue our lobbying efforts in the Senate! Since the introduction of S. 3501, Senator Ron Wyden's companion bill to H.R. 1831, we have been working to get more cosponsors for the bill. We need your help to continue this effort through the end of the year. Please make a donation to Vote Hemp today to help us keep our Legislative Liaison working on Capitol Hill.

Our main goal this year was to get a companion bill to H.R. 1831, the Industrial Hemp Farming Act, introduced in the Senate. The
calls and emails
that you made helped us to get Senator Ron Wyden to introduce S. 3501, the first hemp bill in the Senate in a half century. Your donations have helped to make a big difference and we could not have done it without these funds! Cash really is a fact of life in politics. If you have made a contribution to Vote Hemp this year, thank you very much, we have put it to good use and have accomplished our goals so far. If you have not made a donation, or are in the position to give again, please
click here to make a donation to Vote Hemp now
so we may build on what we have done, gain more cosponsors for the bills in the House and Senate before the end of December, and prepare for the new Congress next year.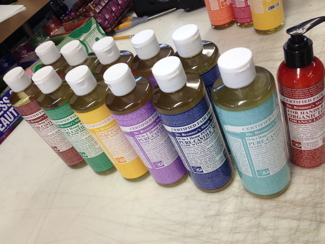 Did you know that when you donate $100 to Vote Hemp the good people at
Dr. Bronner's Magic Soaps
matches your donation, ships you a sampler pack (which includes includes eleven assorted 16 oz. bottles of Dr. Bronner's organic and fair trade hemp oil liquid castile soap plus a bottle of their hemp lotion), and Vote Hemp gets to keep 100% of the donation? This is a $125 value! Please make a
donation at this level now
. We posted the picture to the left on our
Facebook page
in June to help us raise funds to assist in getting a companion bill to H.R. 1831 introduced in the Senate. The number of shares was really great and the response was amazing. Because of your generosity we were able to keep our Legislative Liaison working on Capitol Hill after Hemp History Week to be able to help secure original cosponsors ahead of the introduction of the Senate bill. Thank you!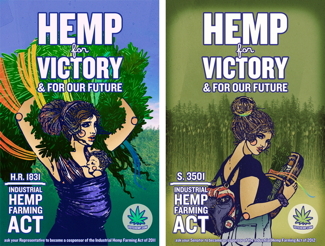 We also have a fantastic opportunity to offer to you! Get a set of two promotional 11"x17" posters specially designed for Vote Hemp by Andrea R. Georgas, freelance illustrator,
http://www.languageisalie.com
. Get this free H.R. 1831 and S. 3501 "Hemp for Victory" poster set with a contribution of $25 or more. These posters have
already been featured
in the Sustainable Living Roadshow's Hemp Hut at Harmony by the Bay at the Shoreline Amphitheatre last month. They are wonderful and we encourage you to make a donation and get a set.