Amendment to the Farm Bill to Allow Industrial Hemp Research Passes in 225-200 Floor Vote
Hemp Amendment Now Attached to Farm Bill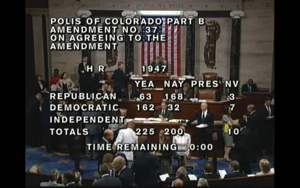 Dear Reader,

A new bipartisan amendment to the Farm Bill in support of industrial hemp has passed by a vote of 225 to 200 on the floor of the House yesterday morning! Introduced by Representatives Jared Polis (D-CO), Thomas Massie (R-KY), and Earl Blumenauer (D-OR), the amendment allows colleges and universities to grow hemp for academic and agricultural research purposes. It applies only to states where industrial hemp farming is already legal under state law.
Unfortunately due to partisan politics, the House version of the Farm Bill failed later in the day on a 195 to 234 vote. So we won the historic vote, but there will be no hemp amendment since the Farm Bill did not pass. This was the first Roll Call vote on industrial hemp in Congress in 50 years and your calls and emails made the difference!
Please click here to call or email your Representative and thank them for voting for the hemp amendment to the Farm Bill if they did so. This is very important as a lot of Representatives have gone out on a limb and we need to show our support for them! If your Representative did not vote for the amendment you will be able to voice your displeasure. Click here to call or email now.
Just because we won on this one vote does not mean that we can let up. The Drug Enforcement Administration (DEA) lobbied heavily against the hemp amendment to the House version of the Farm Bill. So, we need to keep the pressure on.
So, we ask that you also click here to call and email your Representative and Senators today in support of H.R. 525 and S. 359, the Industrial Hemp Farming Act of 2013, in both the House and Senate!
We have prewritten emails and short, easy to use scripts to make phone calls and phone numbers will be provided after you enter your Zip Code on our web site at:
http://votehemp.com/takeaction
Thank you very much for taking the time to call and sending us feedback on your call!
We ask that you pass this information on to friends and family and ask them to call, too. Thank you so much for your support!