First Hemp Legislation to Pass in Congress in Over Fifty Years!
Bipartisan Hemp Research Amendment Part of House Farm Bill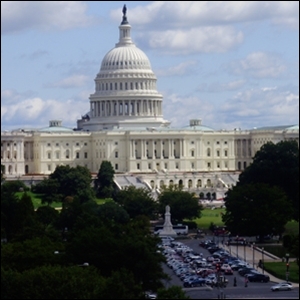 Dear Reader,

Vote Hemp is very excited to report that a bipartisan amendment to legalize hemp production for university research was included in the Farm Bill which passed the House last Thursday. This is another big step forward and it could not have happened without your help and generous support.
Introduced by Representatives Polis (D-CO), Massie (R-KY) and Blumenauer (D-OR), the hemp amendment was passed separately by a vote of 225 to 200 on a previous unsuccessful version of the House Farm Bill. All farm-related amendments which had passed previously were included in a new version of the House Farm Bill, which was then passed by the House on a 216 to 208 floor vote. The amendment allows colleges and universities to grow hemp for academic and agricultural research purposes without a DEA license, but it applies only to states where industrial hemp farming is already legal under state law. This amendment is the first hemp legislation to pass in Congress, or to even be voted on, in over fifty years!

Last month the Senate voted on their version of the Farm Bill. Unfortunately, Senator Wyden's (D-OR) industrial hemp amendment did not receive a vote. Only a handful of Senate amendments were actually voted on, and the hemp amendment was one of more than 200 that did not get a vote. However, we did make some major progress by gaining the support of Senator Leahy (D-VT) who chairs the Judiciary Committee where our hemp bill is assigned. We also received a lot of positive press on the issue, and there are now many more members of Congress who are aware of the subject than ever before.
Even though the hemp amendment to the Senate Farm Bill did not get a vote, our work there helped to set the stage for the passage of the hemp amendment in the House version of the bill. In fact, the House version passed with broad, bipartisan support, including 63 Republicans and 162 Democrats, demonstrating that industrial hemp farming has become a popular, mainstream issue. The House win would not have been possible without the extensive lobbying efforts of Vote Hemp and the support of thousands of activists like you all over the country.

As you know, Vote Hemp is not just working to change laws on the federal level. So far in the 2013 legislative season, industrial hemp legislation has been introduced in twenty states: Alabama, California, Colorado, Hawaii, Illinois, Indiana, Iowa, Kentucky, Maine, Maryland, Massachusetts, Minnesota, Missouri, New Hampshire, New Jersey, Oregon, Pennsylvania, Vermont, Washington and West Virginia. Bills have already become law in Colorado, Kentucky and Vermont. Hawaii passed two resolutions urging Congress to pass laws in favor of the renewal of hemp farming and processing in the U.S. The California bill has already passed in the Senate and is working its way through the Assembly.
We will be meeting with our supporters in Congress over the next few weeks and plan to push for hearings in both the House and Senate. We also plan to organize briefings for Congressional staffers. In order to continue our education and outreach to once again allow hemp farming in the U.S., we need your support. Please make a donation today!

Vote Hemp needs to hire a support outreach coordinator and increase our presence on Capitol Hill.
We must raise $10,000 to reach our goal and Dr. Bronner's Magic Soaps will match your donation
! Please donate whatever you can today. Vote Hemp was recently praised by Kentucky Agriculture Commissioner James Comer's Chief of Staff, Holly Harris as "the greatest grassroots operation I've ever seen." We appreciate the praise, but we have not done this alone. We have worked with many organizations and individuals across the country to achieve this success.
With your support, we can continue making progress and finally see American farmers growing hemp again
.