Four More Cosponsors for H.R. 525, the Industrial Hemp Farming Act
10% of House Members are Now Cosponsors!
52% of House Hembers Voted for the Hemp Amendment to the Farm Bill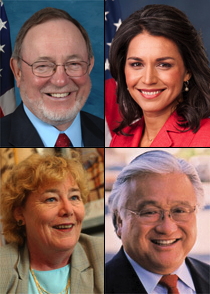 Rep. Don Young (R-AK)
Rep. Tulsi Gabbard (D-HI)
Rep. Zoe Lofgren (D-CA)
Rep. Michael M. Honda (D-CA)
(right-to-left, top-to-bottom)
Dear Reader,

Vote Hemp is pleased to announce that we have picked up four new cosponsors for H.R. 525, the Industrial Hemp Farming Act of 2013. We now have a total of 45 cosponsors including Representative Thomas Massie (R-KY), of which 28 are Democrats and 17 are Republicans. This is just over 10% of House members! Representatives Don Young (R-AK) and Zoe Lofgren (D-CA) became cosponsors last week, and Representatives Tulsi Gabbard (D-HI) and Michael Honda (D-CA) did so in the middle of June. This is in addition to a the passage of bipartisan hemp amendment to the Farm Bill, which passed by a vote of 225 to 200 on the floor of the House in late June. Of the members voting in favor of the amendment 162 are Democrats and 63 are Republicans. The amendment allows colleges and universities to grow hemp for academic and agricultural research purposes. It applies only to states where industrial hemp farming is already legal under state law. Though, the fate of the Farm Bill is up in the air now.
We have been able to accomplish this with your emails and phone calls, our advocate on Capitol Hill, and the financial support of many of you. Without the donations of companies in the hemp indurtry like Dr. Bronner's Magic Soaps, Manitoba Harvest Hemp Foods, Merry Hempsters, and Nutiva along with the support thousands of individuals our successes would not have been possible! Please see an update from Ben Droz, our advocate, below.

Working as an advocate for hemp farming on Capitol Hill over the past four plus years has been a real roller coaster ride. Sometimes I can get a lot of meetings, sometimes I can hardly get any. But over the past several months, I have felt that the winds have shifted to push our hempen sails. Hemp History Week coincided with the Farm Bill in a perfect storm that was felt by Congress. Your calls came when we needed them, and the passage of our farm bill amendment in the House was the biggest victory we've had in a decade. But this is really only the beginning, there is still work to do, and more victories that must be won.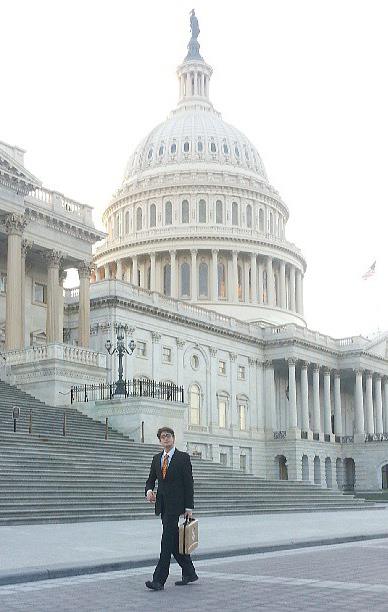 Ben Droz on Capitol Hill
Over the past few months, I've given out hundreds of hemp granola bars and had scores of meetings. This week, I'm in the process of going office to office, thanking the 225 members that supported our amendment. But I can't do this alone. We need your support to to be effective. Your calls are hugely important, thank you for making them and please continue. But we also need funding. We're on a new playing field, but still with our old equipment. We still don't have an office or a full time dedicated staff. These shortfalls are stunting our progress and potential.
Now is the time to get involved with hemp. Whether by contacting your Congressperson, visiting them at an event this August during the upcoming recess or on the Lobby Day during the HIA Conference in Washinton, DC in November, or making a valuable contribution, you will be part of the force that will ultimately bring hemp farming back to the U.S. And we thank you for that!
Please click here to call or email your Representative and thank them for voting for the hemp amendment to the Farm Bill if they did so. This is very important as a lot of Representatives have gone out on a limb and we need to show our support for them! If your Representative did not vote for the amendment you will be able to voice your displeasure. Click here to call or email now.

Just because we won on this one vote does not mean that we can let up. The Drug Enforcement Administration (DEA) lobbied heavily against the hemp amendment to the House version of the Farm Bill. So, we need to keep the pressure on.
So, we ask that you also click here to call and email your Representative and Senators today in support of H.R. 525 and S. 359, the Industrial Hemp Farming Act of 2013, in both the House and Senate!
We have prewritten emails and short, easy to use scripts to make phone calls and phone numbers will be provided after you enter your Zip Code on our web site at:
http://votehemp.com/takeaction
Thank you very much for taking the time to call and sending us feedback on your call!
We ask that you pass this information on to friends and family and ask them to call, too. Thank you so much for your support!