California Governor Jerry Brown Signs Hemp Bill SB 566
Industrial Hemp Research Amendment in the House Farm Bill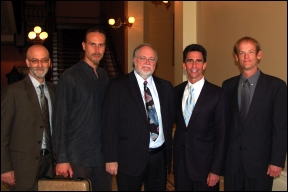 Patrick Goggin, David Bronner, Bob McFarland, Senator Mark Leno and David Piller
Dear Reader,

Vote Hemp and the Hemp Industries Association (HIA) are excited to report that Governor Jerry Brown has signed SB 566, the California Industrial Hemp Farming Act. After moving smoothly through the California legislature with strong bi-partisan support, this landmark legislation has now become California law. Introduced by Senator Mark Leno earlier this year, SB 566 ensures that California is prepared to begin registering hemp farmers once the federal government has given states the green light. The California Industrial Hemp Farming Act will establish a framework for farming the oilseed and fiber varieties of the plant, which are used in a myriad of everyday consumer products, including food, body care, clothing, paper, auto parts, composites, building materials, and bio-fuels.
We have been working in California since 2005 to pass industrial hemp legislation. The California Narcotics Officers Association and their lobbyist worked against these bills. We persevered and gained support from groups across the state including the CA Sheriff's Association. We have finally succeeded. Without the donations of hemp businesses like Dr. Bronner's Magic Soaps, Nutiva, Manitoba Harvest Hemp Foods and Merry Hempsters along with the support thousands of individuals such as you our successes would not have been possible. But, we're not done yet! We still need to pass legislation in Congress to permanently make indusytrial hemp legal at the federal level. Please donate now to support our efforts.

This has been a very successful year on both the state and federal level. In the 2013 legislative season industrial hemp legislation has been introduced in twenty states. Hawaii adopted two industrial hemp resolutions. California, Colorado, Kentucky, and Vermont have passed industrial hemp farming bills that have become law.
Late last month the U.S. Department of Justice issued a memo to United States Attorneys on the subject of conflicts between state and federal laws on marijuana. It was interpreted by many, since the federal definition of "marihuana" includes all carieties of Cannabis, that this was a green light for hemp production, too. At the urging Rep. Earl Blumenauer (D-OR), after the U.S. Attorney for Oregon said that her office would not interfere with hemp production in the state, the Oregon Department of Agriculture indicated that they will draft certification rules for industrial hemp growers.
On September 10, 2013 we held a briefing and press conference on Capitol Hill discussing industrial hemp policy and pending legislation featuring Kentucky Ag. Commissioner James Comer, Rep. Thomas Massie (R-KY), Rep. Jared Polis (D-CO) and Eric Steenstra, President of Vote Hemp. Please
click here
to watch a video of the event.
2013 will be remembered as the year when it became obvious to most people that it's not a matter of if hemp farming will be legal in the U.S. once again, it's when.

Also, there is a hemp research amendment that is part of the House version of the Farm Bill. The amendment allows colleges and universities to grow hemp for academic and agricultural research purposes. It applies only to states where industrial hemp farming is already legal under state law. We are working to make sure that this amendment remains in the final version of the Farm Bill.
The Senate has assigned conferees to a conference committee to work out the differences between the different versions of the two Farm Bills. The House is expected to do so as well, but the government shutdown may seriously slow the progress of the Farm Bill. The existing extension of the 2008 Farm Bill expired today.
Please click here to call or email your Representative and thank them for voting for the hemp amendment to the Farm Bill if they did so. This is very important as a lot of Representatives have gone out on a limb and we need to show our support for them! If your Representative did not vote for the amendment you will be able to voice your displeasure. Click here to call or email now.
We also ask that you click here to call and email your Representative and Senators today in support of H.R. 525 and S. 359, the Industrial Hemp Farming Act of 2013, in both the House and Senate!
We have prewritten emails and short, easy to use scripts to make phone calls and phone numbers will be provided after you enter your Zip Code on our web site at:
http://votehemp.com/takeaction
Thank you very much for taking the time to call and sending us feedback on your call!
We ask that you pass this information on to friends and family and ask them to call, too. Thank you so much for your support!