The Farm Bill Passes the U.S. House by a Vote of 251 to 166
Section 7606, Legitimacy of Industrial Hemp Research, Is In the Final Bill
Dear Reader,

We are excited to report that the Farm Bill passed in the House this morning by a vote of 251 to 166 and it includes expanded hemp provision language! This is a big first step towards allowing American farmers to once again grow industrial hemp.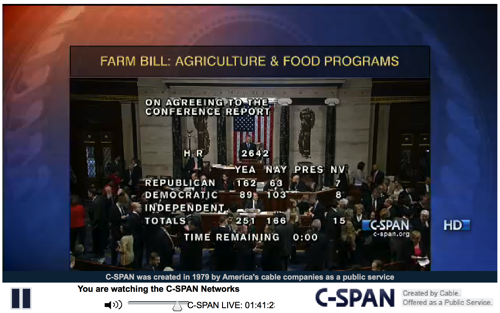 Originally introduced as an amendment by Representatives Jared Polis (D-CO), Thomas Massie (R-KY) and Earl Blumenauer (D-OR), the provision allows universities, and now also state departments of agriculture, to grow hemp for academic or agricultural research purposes, but applies only to states where industrial hemp farming is already legal under state law. Vote Hemp was pleased with the bipartisan support for the amendment and worked with key Republican and and Democratic offices in both the House and Senate to ensure the amendment was included in the conference report, which passed the House today. Senator Mitch McConnell (R-KY) worked to retain and strengthen the provision. The full text of the bill may be found at:
http://www.votehemp.com/FarmBill
.
We expect the Senate to pass the Farm Bill and a vote is expected as early as next week. But our work is not done until all American farmers have the right to grow hemp! Vote Hemp will continue to work to get legislation passed on the state and federal level. Once the Farm Bill has passed the Senate and is signed by the President we will also be working with state departments of agriculture and universities to get research started. They will need expert input to help craft regulations to implement the agricultural pilot programs called for in the Farm Bill's hemp research provision.
Just because we won the right to begin research does not mean that we can let up. The Drug Enforcement Administration (DEA) lobbied heavily against the hemp amendment to the House version of the Farm Bill in advance of the floor vote. We expect further disinformation from them. So, we need to keep the pressure on to pass legislation to allow farmers to grow hemp under state law commercially.
Will you help us continue the fight? Please make a donation today and your gift will be doubled by Dr. Bronner's Magic Soaps, who will match it dollar-for-dollar up to $50,000!