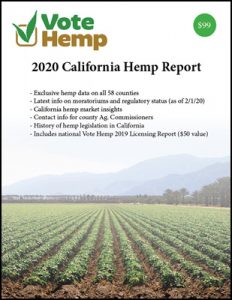 Vote Hemp has been working to bring back hemp farming in California since 2002. We have sponsored key legislation including recent bills to ensure that farmers could grow for biomass (SB 1409) and to improve regulations (SB 153).
California is the only state where counties have a role in regulation and licensure. It has created a complex web of regulations for California farmers. Vote Hemp has been monitoring hemp regulations and moratoria in all 58 counties which has been extensive. If you are considering getting into the hemp market in California, the data and insights in this 25 page report will be very valuable. The report includes:
– Exclusive hemp updates on all 58 counties including moratoriums & zoning restrictions
– California hemp market insights
– Contact info for county Ag. Commissioners
– History of hemp legislation in California
– Includes the national Vote Hemp 2019 Licensing Report ($50 value)
To order your copy, donate $50 or more and we will mail it out to you within 5 business days.