Since 2016, Vote Hemp has produced an annual Hemp Crop Report documenting the licensed cultivation of hemp in the United States. The annual hemp cultivation data and other statistics are provided by state departments of agriculture. Where states were unable to provide data on the hemp acreage planted, we estimated at 70% of licensed hemp acreage. This estimate is based on data collected in other states that has shown an average of 70% planting rate.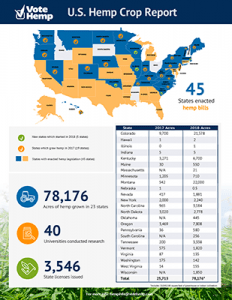 Media may cite or use graphics from this report with attribution to: Vote Hemp www.VoteHemp.com
2019 U.S. Hemp License Report – 511,442 acres licensed
A full report listing licensed acreage by state available to donors of $50 or more
2018 Hemp Crop Report – 78,176 acres grown
2017 Hemp Crop Report – 25,713 acres grown
2016 Hemp Crop Report – 9,770 acres grown
Please share the U.S. Hemp Crop Report widely.