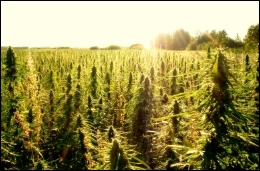 Industrial Hemp Research Section Included in the Farm Bill!
Vote Hemp, the nation's leading hemp grassroots advocacy organization working to revitalize industrial hemp production in the U.S., is excited to report that an amendment to legalize hemp production for research purposes was included in the Farm Bill, which will soon be voted on in both the House and Senate. Originally introduced by Representatives Jared Polis (D-CO), Thomas Massie (R-KY) and Earl Blumenauer (D-OR), the amendment allows colleges and universities, and now also State Agriculture Departments per the conference committee revisions, to grow hemp for academic or agricultural research purposes, but applies only to states where industrial hemp farming is already legal under state law.
Please click here to learn more about this historic event.
---
Vote Hemp is a national, single-issue, non-profit advocacy group founded in 2000 by members of the hemp industry to remove barriers to industrial hemp farming in the U.S. through education, legislation and advocacy. We work to build grassroots support for hemp through voter education, registration and mobilization, as well as defend against any new laws, regulations or policies that would prohibit or restrict hemp trade.
Industrial hemp is the non-psychoactive, low-THC, oilseed and fiber varieties of the Cannabis sativa plant. Hemp has absolutely no use as a recreational drug.
---