Vote Hemp 2012 Year-End Wrap-Up
Will 2013 Be the Year for Hemp Farming and Processing in the U.S.?
Dear Reader,

Thanks to you, Vote Hemp has had another productive year in 2012. Can you help us continue the fight? If you make a donation today, your gift will be doubled by Dr. Bronner's Magic Soaps, who will match it dollar-for-dollar up to $40,000.

Some Highlights from 2012
The Industrial Hemp Farming Act of 2012 (S. 3501) was introduced in the Senate by Sen. Ron Wyden of Oregon and Sen. Rand Paul of Kentucky. The bill gained two co-sponsors since its introduction in August, Sen. Jeff Merkeley of Oregon and Sen. Bernie Sanders of Vermont. Sen. Wyden made an impassioned speech on the floor of the Senate for a hemp amendment to the Farm Bill that he introduced prior to S. 3501. If you have not seen the video yet, you can click here to watch it. We told you about our plans to make this happen last year, and we are very excited to report that we now have bipartisan legislation pending in both houses of Congress.
The Industrial Hemp Farming Act of 2011 (H.R. 1831) in the House of Representatives added more co-sponsors and now has the most co-sponsors since the bill was first introduced in 2005, a total of 37. The bill has broad bipartisan support, including 9 Republicans and 28 Democrats. Rep. Ron Paul of Texas and Rep. Barney Frank of Massachusetts, the original bill sponsors, are retiring this year, and we are currently working to secure new original sponsors for this legislation in the 113th Congress, which begins next month in January.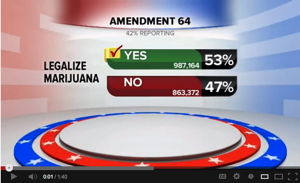 Voter initiatives were passed in Colorado (Amendment 64) and Washington (Initiative 502) that define hemp as distinct from marijuana under state law. Vote Hemp endorsed the hemp language in Amendment 64, and we are looking forward to working with hemp supporters, state legislators and farmers to get hemp planted in the very near future. The Colorado legislature is now tasked with creating enabling legislation to regulate hemp farming and is expected to do so in 2013. Vote Hemp plans to help fund a lobbyist to assist in getting good legislation passed which represents the best interests of farmers and businesses.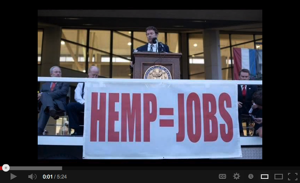 Vote Hemp president Eric Steenstra and board member David Bronner attended the first meeting of the newly reactivated Kentucky Hemp Commission, where state Agriculture Commissioner Comer announced that industrial hemp legislation was his top legislative priority for 2013. The commission was able to meet thanks to a very generous donation of $50,000 from Dr. Bronner's Magic Soaps and a matching donation from the RAND PAC political action committee of Sen. Rand Paul. The meeting was big news in Kentucky and has generated very positive press. Due to the hard work of the commission, especially members Katie Moyer and John Riley, on November 28 Christian County Sheriff Livy Leavell Jr. announced his support for industrial hemp farming.
Seven states introduced hemp farming legislation and resolutions. Three of the bills became law this year. Colorado had a hemp bill (HB12-1099), authorizing an industrial hemp phytoremediation pilot program, introduced early in the year, which was signed by Governor Hickenlooper in June. Hawaii had a trio of hemp bills introduced this session (SB 2890, HB 1820 and HB 1727), but all three died in committee. Kentucky also had a trio of hemp bills introduced this session (HB 286, HB 272 and SB 41) which had no action taken on them. HB 286 was introduced at the urging of state Agriculture Commissioner James Comer and had the backing of numerous legislators and the state Department of Agriculture. We expect this lack of legislative action to change next year, due to the ongoing work of the Kentucky Hemp Commission and Commissioner Comer. New Hampshire had a hemp definition bill (HB 1615) pass the House, but it was held over for interim study by the Senate. Also, a resolution (HR 20), urging the federal government to allow the cultivation of hemp for industrial purposes, was passed by the House and forwarded to President Obama, Attorney General Holder, DEA Administrator Leonhart, Office of National Drug Control Policy (ONDCP) Director Kerlikowske and Secretary of Agriculture Vilsack, as well as to each member of the New Hampshire congressional delegation. New Jersey had a hemp farming bill (A2415) and a hemp resolution (AR54), urging the President and Congress to enact the Industrial Hemp Farming Act of 2011, both die in committee. New Mexico had a hemp farming bill (HB 62) die as well. Vermont had a hemp amendment added to an unrelated bill (H 747), modifying existing law to allow the Agency of Agriculture to promulgate hemp farming rules, although not yet issue licenses, which was passed and signed by Governor Shumlin. You can click here to learn more about state hemp legislation. We expect more success, with your support, on the state level in the upcoming legislative session.
Vote Hemp staffed a booth at the National Farmers Union (NFU) annual convention where our representatives educated farmers about industrial hemp. We also advocated for a pro-hemp resolution which was passed by the NFU and is current policy. We intend to be there again next year at the 2013 NFU Convention in Massachusetts.
Vote Hemp engaged an intern to contact farming organizations at the state and national levels in order to request pro-hemp resolutions and educate them about the Hemp History Week campaign. We gained the support of 12 farming groups from this effort and intend to continue working to educate farmers in 2013.
In cooperation with the Hemp Industries Association (HIA), Vote Hemp held the third annual Hemp History Week in June of 2012. It was a very successful campaign, with over 800 events in all 50 states and great media coverage. Plans are already underway for an even larger celebration next June, with a goal of an equal or greater number of events. If you would like to get involved, please click here.

One Big Disappointment in 2012

Our petition to "Allow Industrial Hemp to be Grown in the U.S. Once Again" on the We the People site started by the White House was denied after 7 months of waiting. The petition was signed by over 25,000 supporters and was one of the top 5 most supported issues. Drug Czar Gil Kerlikowske wrote a ridiculous and inaccurate response, claiming that hemp is marijuana and stating that they would not allow it to be grown.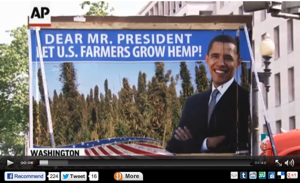 In response to the Obama Administration, hemp advocate David Bronner of Dr. Bronner's Magic Soaps held a personal protest in front of the White House, where he harvested and processed live hemp plants while locked in a steel cage. He was arrested after several hours but was able to make a strong statement that businesses and farmers are tired of the Administration's refusal to meet in good faith with state officials, farmers and businesses in order to work out reasonable rules for states that want to allow hemp farming.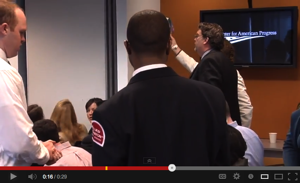 Also in response, Vote Hemp president Eric Steenstra, along with other hemp activists, attended a briefing by Drug Czar Kerlikowske in Washington, DC and submitted questions about industrial hemp policy. At the end, after Kerlikowske failed to address the questions, Steenstra stood up and challenged him to explain their ridiculous policy and refusal to recognize that hemp is not marijuana. Click here to view a video of the confrontation. We intend to continue pressing the Obama Administration to engage in real dialog and enact reasonable federal policy allowing states to regulate hemp farming on their own.
The Year Ahead: 2013
We are currently working hard to secure new original sponsors for hemp legislation in the U.S. House in 2013, due to the retirement of Rep. Ron Paul and Rep. Barney Frank. We expect to once again secure bipartisan co-sponsors and to pick up new supporters to replace those who retired, gained a different elected office, or lost their races.
We will also work hard next year to expand our coalition in the U.S. Senate and push for hearings in the Senate Judiciary Committee.
We will work aggressively as well in Colorado, Kentucky, Vermont and Washington to help develop good administrative hemp regulations, and in other states to help introduce more hemp legislation and resolutions.
Overall, our goal is to apply even more intense pressure on Congress and the Obama Administration to make changes allowing states to once again regulate hemp farming themselves without interference from the federal government.

Vote Hemp is only able to continue this work through the generosity of advocates, activists and supporters like you!


We need your donation to enable us to continue our work in the coming year. 2013 will mark our 12th anniversary, and you have been a crucial partner in our progress over those years. With your continued support, we can keep hemp farming in the forefront at both the state and federal levels. Once again this year, Dr. Bronner's Magic Soaps has generously agreed to match every dollar you donate, doubling the impact of your contribution!
Please make a contribution to Vote Hemp today to help us keep working towards a commonsense renewal of hemp farming in the U.S. We need and truly appreciate your continued support.

Happy holidays to you and yours, and may 2013 be a banner year for hemp!

Thank you in advance,
Eric Steenstra
President