Dear Reader,
North Dakota farmers Rep. Dave Monson and Wayne Hauge were back in court on November 12 in the U.S. Court of Appeals for the Eighth Circuit in St. Paul, Minnesota. They were appealing a decision by the U.S. District Court in Bismarck, North Dakota. All court documents related to the case, including an audio file of the oral arguments, can be found online.
Vote Hemp and its supporters are providing financial assistance for the lawsuit. If it is successful, states across the nation will be free to implement their own hemp farming laws without fear of federal interference. Vote Hemp depends entirely on contributions from supporters like you to do our work. Please make a donation to our Hemp Farmer Licensing and Legal Support Fund today.
Our primary argument is a Commerce Clause claim. We are arguing that under the unique North Dakota regulatory scheme, no prohibited parts of the plant will ever enter commerce because they must be removed on the farm and cannot be sold or transported. The farmers can only trade in processed seed incapable of germination, oil or fiber, which are all indisputably legal. We also argued that because the North Dakota law limits THC in the hemp crop to 0.3% or less, the farmers' hemp would not be fungible with marijuana and would have no drug value. Essentially, we are saying that because there would be no interstate commerce in the prohibited parts of the plant, the DEA cannot legally regulate this activity per the Commerce Clause and the state should be able to do so.
The farmers did initially apply for a federal permit to cultivate hemp. The DEA license is annual and requires a fee of more than $2,300. The applications were delivered by the North Dakota Agriculture Commissioner along with a letter requesting a response by May 1, 2007. If the farmers did not plant by June 1, it would be too late. It is now 20 months later, and we still have no decision from the DEA. Obviously, farmers cannot be expected to wait years to get an answer. North Dakota State University applied for a research permit and waited for more than eight years to get a decision, which only came after this lawsuit was filed. The judges both at the district level and in the Eighth Circuit noted this fact and seemed sympathetic to our arguments that the DEA just sits on the applications.
Once we allowed the DEA a chance to act in a reasonable amount of time and they did not, we filed our lawsuit based on the Commerce Clause argument. If we prevail in our appeal, we will get a chance to go to discovery with the DEA on the merits. The oral arguments went well last week. From the questioning, it appeared that the judges did not buy the DEA's argument that the District Court did not have jurisdiction. We believe that we also made a strong case that the District Court improperly concluded that hemp contains psychoactive levels of THC. This information was not part of the briefs on either side, and we argued that the Court should have allowed discovery.
We expect to have a decision from the three-judge panel within three to six months. We of course will keep you updated.
Thanks for your continued interest and support.
Sincerely,
Eric Steenstra
President

Table of Contents
US Appeals Court Hears Arguments in ND Hemp Case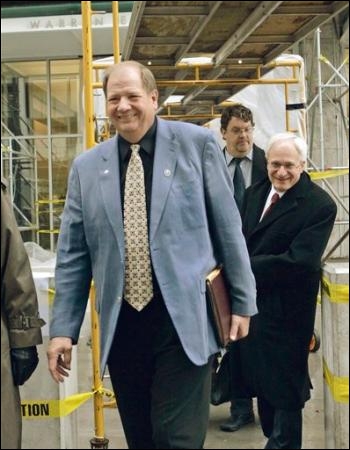 David Monson, left, Joe Sandler, right, and Eric Steenstra, center. Photo credit: Jim Mone / AP.
By Elizabeth Dunbar, AP
Google News
November 13, 2008
ST. PAUL, MN — An attorney for two North Dakota farmers argued they should be able to grow industrial hemp under state regulations without fear of federal criminal prosecution.
Attorney Joe Sandler told a panel of the 8th U.S. Circuit Court of Appeals on Wednesday that his clients' lawsuit against the federal Drug Enforcement Administration (DEA) should move forward so that the farmers might have a chance to use their state permits to grow hemp for seeds and oil. The lawsuit was [earlier] dismissed in U.S. District Court.
At the heart of the dispute is whether the farmers — state Rep. David Monson and Wayne Hauge — can cultivate hemp under North Dakota laws without violating the federal Controlled Substances Act (CSA).
Hemp is related to the illegal drug marijuana, and under the federal law, parts of an industrial hemp plant are considered controlled substances.
Panel Mulls Hemp Laws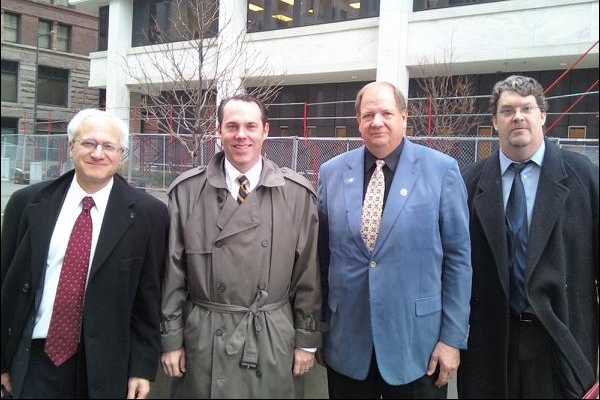 L-R: Joe Sandler, Tim Purdon, David Monson and Eric Steenstra. Photo credit: Vote Hemp.
By Don Davis
The Forum
November 13, 2008
ST. PAUL, MN — A U.S. Appeals Court panel is considering whether North Dakota law trumps federal law when it comes to raising hemp.
Two North Dakota farmers want to grow hemp, a close relative of illegal marijuana, but the federal Drug Enforcement Administration (DEA) has not granted them permission. The farmers sued to get the permit, but a federal district court threw out their suit.
The two sides argued the case Wednesday before an Appeals Court panel in St. Paul. A decision could come in weeks or months.
Hemp: North Dakota Farmers Head to Federal Appeals Court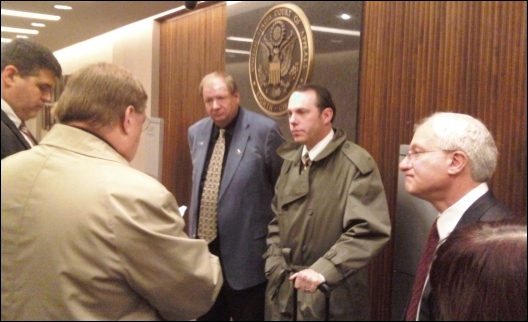 David Monson, center-left, Tim Purdon, center-right, and Joe Sandler, right. Photo credit: Vote Hemp.
Drug War Chronicle
Issue #560
November 14, 2008
A pair of North Dakota farmers who want to be able to grow hemp were in the U.S. 8th Circuit Court of Appeals in St. Paul, Minnesota on Wednesday to argue their case. Farmers Wayne Hauge and David Monson, who is also a Republican state representative, applied to grow hemp under North Dakota's hemp law but have yet to receive a permit to do so from the DEA. They filed suit in federal district court in Bismarck last year, but lost at the district court level.
The farmers and their attorneys, Joe Sandler and Tim Purdon, are appealing on a number of grounds, including the district court's ruling that hemp and marijuana are the same. The farmers argued that the scientific evidence is clear that hemp is genetically distinct from drug varieties of Cannabis and that there are no psychoactive effects from ingesting it.
The DEA, which has jurisdiction over drug scheduling decisions, does not recognize any difference between hemp and marijuana. Under current federal law, anyone who grows industrial hemp for use in foods, lotions, fuels, cloth and paper, among others, is subject to prosecution under federal marijuana cultivation statutes.
Hemp Growers Take Case to Higher Authority

By James Walsh
Star Tribune
November 12, 2008
Pot — or not pot. That seems to be the question.
Two North Dakota farmers on Wednesday took their battle to grow industrial hemp to the Eighth Circuit U.S. Court of Appeals in St. Paul, where their attorney argued that hemp is so distinct from marijuana that it should not be subject to federal regulation. At stake, say hemp sellers and would-be farmers, is a potentially booming commodity that would help U.S. growers and consumers alike.
"I get real excited about it because of our economic times. It's a crop that would be very, very lucrative," said Lynn Gordon, owner of French Meadow Bakery, who attended oral arguments at the U.S. Courthouse in St. Paul. French Meadow makes Healthy Hemp bread, muffins and bagels — all big sellers, Gordon said — but must buy its hemp from Canada.
"I pay so much for it now," she said.
Federal law allows the import and sale of non-drug hemp stalk, fiber, oil and seeds in the U.S., saying it is separate from marijuana. In fact, hemp is used in paper, textiles, food and even fuel. But federal law also lumps hemp and marijuana together — they both are classified as Cannabis sativa L. — when it comes to growing the plants, making it almost impossible for U.S. farmers to legally raise the crop.
Current Action Alert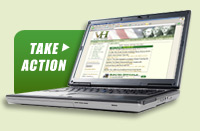 Nationwide: Click here to send a letter urging your U.S. Representative to co-sponsor HR 1009, the "Industrial Hemp Farming Act of 2007."
Please also click here to contact President-elect Barack Obama and his transition team and educate them about agricultural hemp. Remember to mention Vote Hemp and our various resources at their disposal.



Quick Links ...