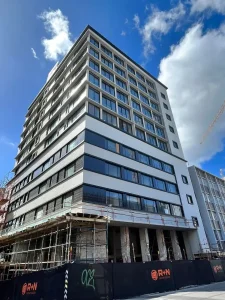 A new hotel made from hemp has opened in South Africa, marking a major milestone for the country's green building sector. The hotel, called the Hemp Hotel, is located in the city of Cape Town and is made entirely from hempcrete, a building material made from hemp and lime.
Hempcrete is a sustainable and environmentally friendly building material that has a number of advantages over traditional building materials. It is strong, durable, and fire-resistant, and it also has excellent insulation properties. Hempcrete is also a carbon-negative material, meaning that it absorbs more carbon dioxide from the atmosphere than it releases during production.
The Hemp Hotel is the tallest building in the world to be made from hempcrete. It is a twelve-story building with 24 rooms, and it is designed to be energy-efficient and low-maintenance. The hotel also has a number of sustainable features, such as solar panels, rainwater harvesting, and a green roof.
The opening of the Hemp Hotel is a major step forward for South Africa's green building sector. It shows that it is possible to build sustainable and environmentally friendly buildings that are also beautiful and comfortable. The hotel is expected to attract visitors from all over the world, and it is hoped that it will inspire others to build with hempcrete.
In addition to the environmental benefits, hempcrete is also a cost-effective building material. It is estimated that the Hemp Hotel cost about 20% less to build than a conventional hotel of the same size. This is due to the fact that hempcrete is a relatively easy and quick material to work with.
The Hemp Hotel is a pioneering project that is setting a new standard for sustainable building. It is hoped that the hotel will inspire others to use hempcrete in their own construction projects.