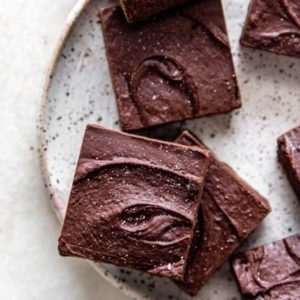 Quick and super easy vegan fudge recipe loaded with protein and nutrients thanks to hemp milk. It's amazing how tasty and delicious this 'healthy' fudge is especially since it only contains 5 ingredients!
Ingredients:
2/3 c. hemp hearts
2 tbs. coconut crystals (or other sweetener of choice)
1 3/4 c. 70% dark chocolate chips
1/2 c. peanut butter (or other nut butter of choice)
salt
Preparation:
Blend 1/3 cup hemp hearts with 2/3 cup water
Add all other ingredients except salt and remaining 1/4 cup hemp hearts
Heat over medium heat until melted
Stir in remaining 1/4 cup hemp hearts
Pour in to a pan lined with parchment or wax paper
Sprinkle salt over top and refrigerate for 1 hour
Cut into 20 squares, serve and enjoy!