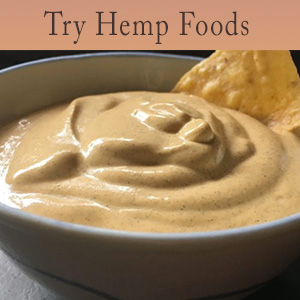 Ingredients:
½ cup raw hemp hearts
1 tbsp. lemon juice
½ tbsp. nutritional yeast
¼ tsp. salt (to taste)
1-2 tbsp. water
½ cup salsa
Note: adjust the heat of the queso by using mild, medium or hot salsa or add diced jalapeños
Directions:
Put all ingredients in a high speed blender and blend until smooth. It's as easy as that! This is a quick and easy dip that is also delicious and nutritious! Makes approximately 1 ½ cups or 4 servings. Serve as a dip with chips or veggies.