IN THIS ISSUE
Testimony of USDA Secretary begs the question, who is in charge of hemp policy?

Vote Hemp releases 2020 California Hemp Report

USDA approves crop insurance, deadline to apply is March 16

NASDA adopts new hemp policies at Winter Policy Conference

USDA Economic Research Service releases economic viability report
On Wednesday USDA Secretary Perdue testified before the House Agriculture Committee. He was asked about challenges with the THC testing provisions of the Interim Final Rule (IFR) by Rep. Lawson (D-FL). Perdue explained that USDA was attempting to make changes to improve the IFR but testing limitations had "a lot of impact from DEA and the Interagency" which were constraining USDA.
"There's been some relaxation recently… this Interim Final Rule, we didn't get it nailed right in the bullseye and we tried to make some corrections there and OMB has allowed us to do that, frankly the testing and the limitations had a lot of impact from DEA and the Interagency and they were not excited about the crop as a whole anyway and we had some pretty serious constraints so were trying to address the lab issue which was a real limitation."
USDA Secretary Perdue, House Ag. Committee testimony 3/4/2020
USDA did announce some positive changes last week, relaxing rules on disposal of hot hemp crops and delaying the enforcement of the requirement that testing labs be registered with the DEA. We welcome these changes and hope that USDA will use its authority to provide more flexibility to hemp producers and state regulators.
However, after listening to Purdue's testimony, were wondering why officials in the Drug Czar's office and DEA are having so much influence on hemp farming regulations and why USDA is unable to regulate as they see best and were authorized by Congress to do?
The 2018 Farm Bill removed hemp from the Controlled Substances Act (CSA) and transferred the regulatory authority for hemp production to USDA. The 2018 Farm Bill only required that USDA consult with the Attorney General, not that they defer to other agencies or policy advisors on final decisions about how hemp producers should be regulated. We sincerely hope that USDA will continue to work with the industry and state regulators to implement some of the reasonable recommendations submitted to improve the IFR rather than allowing those in the administration who are opposed to hemp to dictate portions of the regulations that will hamper the success of farmers.
Vote Hemp releases 2020 California Hemp Report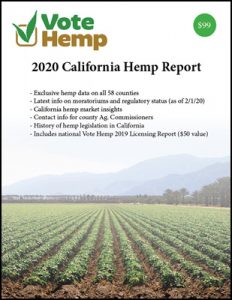 Vote Hemp has been working to bring back hemp farming in California since 2002. We have sponsored key legislation including recent bills to ensure that farmers could grow for biomass (SB 1409) and to improve regulations (SB 153).
California is the only state where counties have a role in regulation and licensure. It has created a complex web of regulations for California farmers. Vote Hemp has been monitoring hemp regulations and moratoria in all 58 counties which has been extensive. If you are considering getting into the hemp market in California, the data and insights in this 25 page report will be very valuable. The report includes:
Exclusive hemp updates on all 58 counties including moratoriums & zoning restrictions
California hemp market insights including seed vendors
Contact info for county Ag. Commissioners
An informative history of hemp legislation in California
Includes the national Vote Hemp 2019 Licensing Report
To order your copy, donate $50 or more and we will mail it out within 5 business days.