EDWARDSVILLE — Gary Knecht of rural Edwardsville is anxious to start doing something that until this summer was illegal in Illinois — growing hemp.
"There are thousands of products that can be made from industrial hemp," Knecht said. "We import most of it from other states, Canada and other foreign countries, but we couldn't grow it here legally."
Knecht and his family farm corn and soybeans on several hundred acres near Edwardsville and 800 acres in Menard County, Illinois. He is the founder of the Omni Ventures farm group in Bond, Calhoun, Greene, Jersey, Macoupin and Madison counties, and for nearly 20 years the organization has been looking forward to legalized hemp cultivation.
"After we organized the first thing we looked at was industrial hemp because of the value-added opportunities. It would give us an alternative crop," Knecht said. "We even made a trip to Canada and visited with some hemp farmers up there."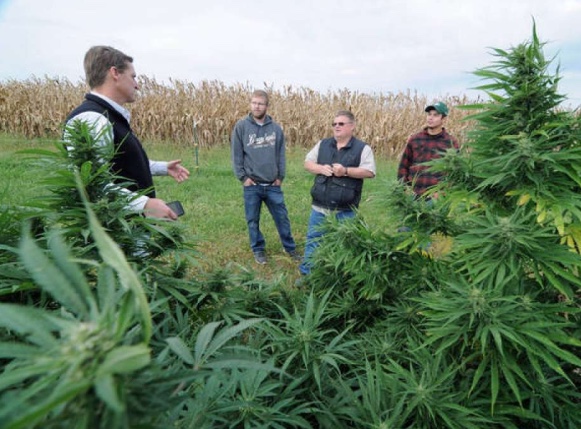 Gov. Bruce Rauner signed the Illinois Industrial Hemp Act on Aug. 25, adding Illinois to an increasing number of states that allow the cultivation of the non-hallucinogenic form of cannabis for use in a myriad of products from oils to fibers. The bill had passed the Illinois House of Representatives on a 106-3 vote and passed unanimously in the Senate.
Knecht and other farmers are waiting for the Illinois Department of Agriculture to set the rules and regulations to implement the new law. Once those rules are in place, which is expected to occur in late 2018, Knecht intends to start with a smaller crop and see how it works. Hemp can be grown for oil, seed or fiber, and Knecht wants to try the fiber variety.
"Guys who are in livestock and have cattle, they've got a lot of the equipment already that they are going to need for fiber production," Knecht said. "You can harvest it with a mower, bale it with a baler, it's not all that difficult to harvest."
"You can use hemp for making plastics, auto body interior trim panels, headliners, and hempcrete is very popular right now, they claim it's as strong as regular concrete," Knecht said. "The main thing we've looked at the past 18 years has been the fiber. That's not to say that eventually we wouldn't get into some oil too, but I think fiber is where our Omni Ventures group is headed."
For several years some Omni Ventures members legally grew kenaf, an ancient food and fiber plant from the cannabis family, because its growth and fiber properties are similar to those of hemp. Knecht said this experience has shown group members what to expect when they grow hemp.
But growing hemp is only half of the story. The crop needs to be processed, and Omni Ventures has thought of that as well.
"If we get enough growers and investors together we could put up a processing plant," Knecht said. "We have been looking into mobile processing plants like years ago when the threshers got together and went around to area farms."
Oblong, Illinois farmer Les Dart is the chairman of the Ag Development Association, an eastern Illinois non-profit, and farmers in his area are also looking to combine their hemp growing and processing efforts.
"Our idea is that if we can grow it, we can learn how to grow it well, get a head start, and then start to attract businesses and identify people who want to partner with us," Dart said.
Gary Knecht's son Edward shares his father's enthusiasm for the new crop.
"Any new markets that we can get involved with would be a good thing, especially now with the tariffs and what that has done to the crop prices, " Edward Knecht said. "Illinois farmers will grow whatever they can to produce a good crop and turn a profit."
The road to legalized hemp
The organization Vote Hemp notes that to date, 34 states "have defined industrial hemp as distinct and removed barriers to its production." These states include Alabama, Arkansas, California, Colorado, Connecticut, Delaware, Florida, Hawaii, Illinois, Indiana, Kentucky, Maine, Maryland, Michigan, Minnesota, Missouri, Montana, Nebraska, Nevada, New Hampshire, New York, North Carolina, North Dakota, Oregon, Pennsylvania, Rhode Island, South Carolina, Tennessee, Utah, Vermont, Virginia, Washington, West Virginia and Wyoming.
But those numbers don't mean the road to legalized hemp production in Illinois was easy. Eric Pollitt is the President of Peoria-based business Global Hemp and is also a member of a new group, the Illinois Hemp Industry Association. Pollitt said a 2014 hemp cultivation bill failed in the Illinois General Assembly, but it was re-written and passed to allow growing hemp for research only. It was 2016 before the rules were in place, and it was only in the spring of 2018 that the first two research test plots were grown in Illinois.
"We did grow hemp in Illinois this year, we had to keep it secretive. We are doing it legally with the Department of Agriculture, but there were two permits and we got one of them," Pollitt said. "We can't allow anyone on the property, we had to visit with area law enforcement, and the permit specifically limits the people who can be on the property."
Those two research plots are in Mason and Warren Counties and both have been harvested. Now, with the Illinois Industrial Hemp Act, the door is open to widespread, commercial hemp production in the state.
"For Illinois farmers they are not completely breaking the glass ceiling, this has been done in other states, so there's not as much of a learning curve," Pollitt said. "But growing it is the easy part. The hard part is, who's going to buy it."
The Illinois Farmers Union began working on hemp legislation in 2014 with the Illinois Stewardship Alliance, according to Farmers Union Marketing Director Robert Davies.
"We thought it would be a really good opportunity for farmers, but the time wasn't right then," Davies said. "It just seemed that it would be a better time to try and start it again in 2018."
"The best way for us to move forward with industrial hemp is to see how farmers can own as much of it as they possibly can, from where they grow it to processing," Davies said. "It would be a very sad day indeed if industrial hemp turned into just another commodity where people are growing it at a loss and some other guy somewhere else is running all the way to the bank with the profit."
Many Illinois farmers have visited Kentucky, which has allowed industrial hemp production since 2013, to see how the licensed farmers south of the border grow this newest cash crop.
"Kentucky farmers have embraced the opportunities and challenges presented by this diverse crop," said Kentucky Department of Agriculture spokesman Sean Southard. "Current program licensees have a little over 6,700 acres of hemp in the ground. In order to grow, process or handle industrial hemp in Kentucky, you must hold a license from the Kentucky Department of Agriculture."
The science of hemp
Compared to Kentucky's 6,700 acres of legal hemp, the one-third of an acre that was Illinois' only remaining unharvested legal hemp crop in late September might seem paltry. The small parcel was one of two allowed under the state's previous hemp research legislation, and it was located near Roseville in western Illinois' Warren County.
The test plot consisted of approximately 1,200 hemp plants ranging from three to six feet tall. The plot emitted a pungent, musty scent and any contact with the leaves transferred a sticky oil that remained with the scent on clothing.
Win Phippen is Professor of Plant Breeding and Genetics at the Western Illinois University School of Agriculture. He worked with Warren County farmer Andy Huston who planted, tended and harvested the hemp test plot full of oil-producing hemp plants.
"Most of the attraction right now is for the cannabinoids, or CBD products, oils that are found on the leaves and the buds," Phippen said. "These have a medicinal type response in people, they are non-hallucinogenic and they are not controlled or regulated."
"The secondary market is primarily for the fiber side," Phippen said. "These are fibers in the stem that can go into packaging material, carpet backing, sound insulation, things like that."
The delay in getting Illinois' industrial hemp law passed was due largely to the fact that hemp and marijuana look very similar and are from the same plant species, cannabis sativa.
"The hemp line, legally, is one that has been bred with tetrahydrocannibinol, or THC, content less than 0.03 percent. Everything else in the plant can be the same as medical marijuana as long as the THC level is below 0.03 percent," Phippen said. "This is the only thing that is different between the two lines."
Phippen said hemp has long been known as "ditch weed" because it grows wild along fence rows and field edges, but he said that's because it takes advantage of nitrogen fertilizer runoff from corn or soybean fields. Growing hemp properly actually requires a tremendous amount of care and hand labor to come up with the ideal plant size of about six feet, Phippen said.
Harvesting hemp is another tricky operation because timing is everything.
"The THC content and CBD oil levels have a tendency to creep up toward harvest time. Producers want to wait as long as possible for the CBD level to be as high as possible but keeping the THC below 0.03 percent," Phippen said. "The minute THC goes into 0.03 percent that crop has to be harvested immediately, because if it crosses over into 0.04 or above, now the crop becomes illegal and has to be destroyed."
The end products
Products made from hemp fibers offer an ecological and often economical alternative to other natural or man-made fibers. CBD oil, on the other hand, can command premium prices. On-line companies advertise eyedropper-type bottles of CBD oil for between $25 and $450 based on the concentration each bottle contains.
The CBD Shop on Homer Adams Parkway in Alton features a case full of these small, eyedropper-type bottles for almost $180 apiece.
"It is an investment, but the whole goal of our shop is to help you find a natural alternative rather than taking pharmaceuticals which you are paying a lot for anyway," said Dustin Hays, an employee of the CBD Shop. "People notice relief from pain, anxiety, stress, sleeplessness, lack of mobility. It's pretty much beneficial for every aspect of your body from a little bit of anxiety to seizures."
Users place a drop of CBD oil under their tongues, let it be absorbed into the bloodstream, then swallow.
"We have edible forms of CBD oil, tincture oils, topical creams, edible candies, vapable oils in a vegetable glycerin base, and we have actual smokable hemp flower," Hays said. "We have a 'chronic candy' chocolate bud and a lot of people are confused by it because it's supposed to look like the actual thing, but it's just chocolate.
"It's a growing industry and a lot of people have opened their eyes to it," Hays said.
Some hurdles remain
Hemp was banned nationwide under the Marijuana Tax Act of 1937 for its close relation to the marijuana plant. The Drug Enforcement Administration still classifies hemp as a Schedule 1 drug and prohibits its growth, but Illinois and other states have gotten around the federal ban by legalizing industrial hemp production for commercial purposes.
These states are taking advantage of a market that is expected to surpass $2 billion by 2020 according to the National Hemp Association, which notes that the U.S. imports an estimated $300 million in hemp products and materials each year.
Although he can soon legally grow hemp in Illinois, Edwardsville farmer Gary Knecht still faces one more government hurdle. Last year Knecht founded the Illinois Industrial Hemp Association, one of two new industry groups in the state, but the organization can't accept memberships yet.
"We are having difficulty getting a bank account set up because federally-regulated banks are reluctant to create a checking account for an entity with 'hemp' in the name because hemp is still illegal under federal law," Knecht said. "We can't accept membership fees if we don't have a place to put them."
Knecht and other advocates are awaiting passage of the new federal farm bill that currently includes the Hemp Farming Act of 2018 which would remove many federal barriers to hemp production and encourage continued growth in the industry.
Content from: https://www.thetelegraph.com/news/article/A-growing-business-Hemp-legalization-a-boon-to-13288321.php.