BUTTE — Alaska's future hemp industry barely drew interest from a few dozen people when a bill making it legal surfaced last year.
But since Gov. Bill Walker signed that bill into law last month, the state official charged with rolling out the industrial hemp program has heard from three or four dozen potential hemp entrepreneurs a week.
More than 500 people have contacted state agronomist Rob Carter about hemp, many of them eager to access lucrative cannabidiol oil markets.
So-called CBD oil is a non-intoxicating cannabis extract, already sold in Alaska but not made here, that's said to treat a wide range of ailments: arthritis, seizures, anxiety and more.
CBD markets are booming throughout the United States, en route to what's expected to be a multibillion-dollar market within a few years.
Pure CBD oil derived from whole hemp plants is worth about 10 cents a milligram, or $2,830 an ounce — far more than the price of pure gold.
"I never could have forecasted the interest for this," Carter said. "I can't say I've had 500 individuals call me that want to get into broccoli production or want to get into rhubarb production, but we have with this."
He predicts a new hemp industry up and running within three or four years.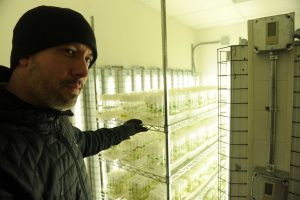 But first, Alaska's nascent industry needs answers: How will the state roll out a pilot program? Which seed variety will thrive in quirky climates? And what's the solution to the state's ever-present transportation and infrastructure hurdles?
Not pot
Alaska has now joined 34 other states that have the ability to grow hemp — many of them without legal marijuana.
Senate Bill 6 allows for the creation of a hemp industry separate from marijuana, which is regulated by the Division of Agriculture instead of the Alcohol and Marijuana Control Office.
The success of the legislation was years in the making: Former state Sen. Johnny Ellis, D-Anchorage, originally introduced a hemp bill in 2015. SB 6 was sponsored by Palmer Republican Sen. Shelley Hughes and carried in the House by Anchorage Democrat Rep. Harriet Drummond.
Ellis, who attended last month's bill-signing at the "classy" invitation of Hughes, said he hopes the state starts the hemp pilot quickly given the time it took to pass legislation.
"Alaska farmers … really deserve the opportunity to get the regulations done ASAP so they can plant seeds this spring, not one year or two years from now," he said this week. "Alaska should have been the third or fourth state to do this."
Hemp is defined in Alaska statutes as cannabis sativa L., containing no more than 0.3 percent THC, the psychoactive ingredient in marijuana.
Hemp and marijuana come from the same general plant family — cannabis — but hemp doesn't get you high. They look different: A hemp plant is skinnier and taller, with leaves up high, instead of bushy like a marijuana plant.
While the two are still lumped together under the federal Controlled Substances Act, a change to the Farm Bill made it legal to grow hemp under state-run pilot programs.
Hemp provides a basis for everything from clothing, salves and protein-packed seeds to oil-spill booms, building materials, even corrugated paper production for seafood processing.
Talkeetna's Ember Haynes advocates for garden-level hemp growers.
Haynes, who owns Denali Hemp Co. and Silverbear Sundries downtown, has sold hemp seed oil from Canada for a decade. Now she wants to grow her own hemp for oil and salves but also to feed and bed her goats, pigs, turkeys and chickens.
"That's the beauty of the hemp industry," she said. "It doesn't have to start with a big industrial boom. It can start with a slow rise of people just incorporating it into their daily lives."
Kenai Peninsula soil and water conservation agent Steve Albers wants to put in 5 acres of hemp, maybe to someday make building materials.
But first the raw product's fibrous stalk needs to be removed from the inner stem, Albers said. Equipment to do that isn't readily available in the state.
"I think it's got some potential," he said. "The problem is like most things in Alaska, it takes infrastructure to get it built."
CBD connection
Others hope an Alaska hemp industry could produce locally sourced CBD oil.
Fans rave about CBD oil's healing properties for dozens of conditions, from anxiety and stress to multiple sclerosis.
Though there's been little published data to back most medical claims about CBD, new research is starting, according to a National Public Radio report.
Federal funding is going toward a clinical trial to see whether CBD can help people with post-traumatic stress disorder who abuse alcohol, NPR reports. Another study is looking at CBD's use in preventing relapse in opioid abusers.
A U.S. Food and Drug Administration panel last month recommended approval of a CBD product to treat four types of epilepsy.
Gershon Cohen of Haines testified during a legislative hearing this year that the oil controlled his granddaughter's seizures so well, the family took her off drugs that had delayed her motor skills development.
The girl went from being unable to sit at 16 months to walking a few months later. She's 3 years old now.
"She runs and plays and rides a tricycle with her peers," Cohen said. She's had no seizures in 26 months on CBD, he said.
Marijuana growers look to expand
CBD oil is already in sold in gas stations, garden and pet stores, and natural groceries in Alaska. But it's made from cannabis grown and processed someplace else, then shipped up.
With the advent of legalization, a number of recreational marijuana growers are preparing to add a new crop to make CBD oil from Alaska-grown hemp.
Kerby Coman is one.
Coman is already an established cannabis entrepreneur: He owns a recreational marijuana dispensary and limited grow operation called Green Degree just outside Wasilla. He's in the process of opening a CBD store in downtown Wasilla.
Now he wants to farm hemp to make his own CBD oil using the horticultural skills already honed growing marijuana.
He's already put bids down on some large agricultural lots toward Willow.
"We're going to start our hemp field there and move forward," Coman said.
Even though hemp doesn't contain the psychoactive agents in marijuana, there's still stigma and legal confusion surrounding it, he said.
Marijuana license holders got a state advisory a few days after the hemp bill signing, making it clear the board now has no authority over industrial hemp or products made from it.
But long before that, in February 2017, the state seized over $20,000 worth of CBD oil due to conflict with marijuana packaging regulations.
By the time Coman got his CBD oil back, he said, a third of the product was expired and had to be tossed.
Now, with legalization looming, growing hemp "should be as easy as having a permit," he said. "Why would you limit what we're able to do?"
It's not that easy, though.
More questions than answers
Backers say industrial hemp could herald a major new industry for Alaska, given the state's relatively pristine growing climate and soil.
But before any hemp seeds hit the ground, the state Division of Agriculture's Plant Materials Center in Butte must develop a pilot program as required by federal law. Only people registered in that program can grow, process or manufacture hemp products.
Honing that list of participants falls to Carter, who directs the Plant Materials Center. So does developing regulations that must be in place before hemp is truly legal in Alaska. The rules need to be drafted, go through public input, and get final approval.
Carter says he hopes indoor growing could start this winter and outdoor the summer of 2019.
First he needs — with help from other agriculture division staffers and state attorneys — to draft the rules and a list of participants in the pilot program. How will he pick them? How many will there be?
Where will the state get hemp seed? A federal permit is needed just to transport it here.
What variety of seed will grow here given Alaska's short but intense summer season?
Given the state's remoteness and lack of hemp history, how will Alaska play catch-up with the processing equipment needed for this new industry?
And how will the state regulate people who want to grow hemp for CBD oil when there's already oil on shelves in gas stations and natural food stores?
It's likely "a large portion of the regulations" will address CBD oil production, manufacturing and sales, Carter said.
Anyone who wants to grow hemp in Alaska to make CBD oil will have to make it into the state's pilot program.
Carter's not sure how he's going to cull a list he originally thought would contain 25 names but now has over 500.
"It's pretty tough," he said. "I'm not sure how we're going to limit entry."
Content from: https://www.adn.com/alaska-marijuana/2018/05/11/alaska-is-on-the-brink-of-a-hemp-growing-industry-but-first-the-state-gets-to-pick-the-players/.