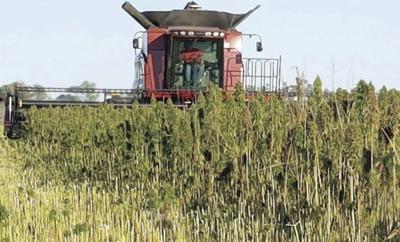 Montana will become the first state to establish a checkoff program for hemp. The establishment of a hemp checkoff was completely producer-driven and aims to use 1 percent of commodity revenue to help Montana hemp production remain "cutting edge."
"Just like any crop, hemp takes investment; particularly in research, but also in marketing and education," said Ben Thomas, director of the Montana Department of Agriculture.
Thomas explained it was quite the process to get this checkoff program off the ground. The initial push required a petition from Montana growers that had to be submitted to the Montana Department of Agriculture. The petitions were received over a year ago and thus started the program development.
It has been decided that a percentage-based checkoff is really the most equitable. All byproducts of hemp are eligible and the idea is that if a certain hemp commodity markets for less, then those producers will not have to contribute as much.
After the checkoff had been established, the Montana Department of Agriculture sought applications from individuals interested in serving on the committee that would oversee the checkoff and its generated funds.
"The basis of the committee is that the funds are pulled directly out of the pockets of producers, so it is very important the committee be made up of people that contribute to that fund," Thomas explained.
Committee selection will be based off of a couple different priorities. Aside from it being made up entirely of producers, Thomas said the committee will be representative of the industry in Montana, both from a geographical and market perspective. Growers from all regions of the state who grow hemp for all different purposes were encouraged to apply. The application period closed May 15.
"We are really looking for that broad representation," he said.
The goal is to have rules drafted soon so growers will be able to contribute to the checkoff fund after the 2020 harvest.
Montana's hemp industry saw some massive growth early on. In 2018, Montana had 22,000 acres of hemp planted, and by 2019, the acres had more than doubled with some 51,000 acres in production. For many Montana farmers, hemp seemed like a fabulous new crop to add to their operation. However, weather and other logistical growing issues, coupled with developing markets and a lack of processing facilities, have proven to make hemp a more challenging crop to grow than was initially expected.
Looking ahead, Thomas predicts hemp production in Montana will look very different in 2020. It is estimated there will be less growers putting land into production, but Thomas is not concerned by the slight changes Montana's hemp industry may incur.
"My vision for this crop is a slow, steady, patient and responsible growth of the industry," he said.
Although growing acres may be reduced in Montana, processing facilities have seen an increase. In fact, as of May 2020, there were over 10 processing facilities in the state, equipped to process CBD oil and the grain side of hemp. These processing facilities offer more value-added opportunities for Montana growers.
Montana's hemp industry may be new, but it certainly provides some exciting opportunities. Thomas recommends all growers interested in hemp production visit the Montana Department of Agriculture's website or call the department directly. He went on to explain that success with the crop is best reached if producers are well informed and proceed cautiously into the industry.
Content from: https://www.agupdate.com/theprairiestar/news/crop/hemp-checkoff-program-established-in-montana/article_56f6190e-962c-11ea-8fbb-17137faa9bdd.html.