Beginning Oct. 9, Rhode Island farmers can apply for a state license to grow hemp — a non-psychoactive cousin of marijuana — as part of a federal research pilot program. Growers see profit potential in the plant's CBD component, which has a number of medical uses.
A plant that resembles marijuana growing in tall, tight rows may be rustling over acres of Rhode Island fields next summer. But before drive-by bandits get any ideas, know this:
You really can't get high on industrial hemp.
Beginning Oct. 9, Rhode Island farmers can apply for a state license to grow hemp. In so doing, they will become part a national resurgence of a cannabis plant used for centuries until it was swept up with its illicit cousin, marijuana, in the U. S. war on drugs decades ago and labeled a controlled substance.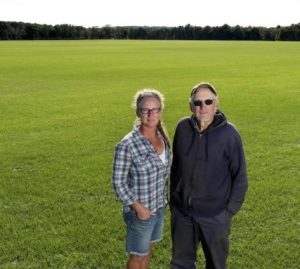 While hemp remains one of the world's most versatile agricultural products — used in everything from food and clothing to building supplies and replenishing soil — its emerging medicinal potential is what's attracting investors and pharmaceutical companies, experts say.
CBD, a component found in the extracted oils of both hemp and marijuana, is increasingly being used for pain, inflammation and nausea. But because hemp has very low concentrations (less than 1 percent) of THC, the mind-altering component in marijuana, the federal government is now considering legalizing it.
In June, the U.S. Food and Drug Administration approved a CBD-based oral solution to reduce seizures with two rare forms of epilepsy in young children. It was the first time federal health regulators had approved a drug found in marijuana.
The federal Drug Enforcement Administration recently announced that it will no longer consider products with less than 0.03 percent THC a controlled substance.
And Congress is weighing a farm bill, championed by Senate Majority Leader Mitch McConnell, R-Ky., that would reclassify hemp as an agricultural commodity and remove it from the list of controlled drugs.
The recent events have "opened the doors" to the possibility of hemp becoming "a new industry," says Norman Birenbaum, Rhode Island's top medical marijuana regulator, who helped craft Rhode Island's new hemp regulations.
"I think the fastest-growing facet of the market … is based around the CBD products," he says.
Until 2014, no one could grow hemp in the United States without a permit from the DEA, says Eric Steenstra, president of the Washington D.C.-based hemp advocacy group Vote Hemp. But by last year, 25,713 acres of hemp were growing in 19 states under a federal research pilot program designed to allow farmers to study ways of growing hemp and experimenting with its uses.
Rhode Island's farmers will operate under the same pilot program.
The Department of Business Regulation (DBR) received about two dozen comments recently on its new hemp regulations. Most came from potential growers who noted the medicinal potential of CBD.
But many said the new rules seem too restrictive and expensive, and needlessly mirror the state's tight controls on medical marijuana.
The requirements include a $2,500 license fee, criminal background checks of growers, laboratory testing of hemp plants to ensure they don't have more than 0.03 percent THC, and a tagging and tracking system of what is sold — similar to medical marijuana.
"I don't have to pay to grow corn or arugula, and neither of those get me high," Matt Tracy, who runs the five-acre Red Planet Vegetable Farm, in Johnston, said in an interview.
Tracy, who was approached last year by a CBD investor asking if he'd be willing to grow hemp, said the regulations restrict whom farmers can sell to and include complicated packaging, labeling and security requirements that most farmers aren't equipped to meet.
Hemp is a "very high valued crop" that could help struggling Rhode Island farmers remain on expensive farmland, said Tracy. But he's not sure he wants to jump through all the hoops.
Lawyer Matthew T. Jerzyk submitted written comments for a client he later identified for The Journal as American Standard Hemp, a "Warwick-based company founded by a group of Rhode Islanders with a goal of building a coalition of Rhode Island farms to grow hemp and extract CBD."
In his comments, Jerzyk said the regulations "look nothing like our neighbors in New England and, if implemented, would kill the market in Rhode Island causing my client to most certainly leave after spending more than a year lining up significant investments and a business plan."
DBR regulators did make some changes to the regulations based on the comments they heard. But they say some of the details the farmers oppose were written into the hemp law the General Assembly passed in 2016 and therefore can't be amended through regulation.
In an email to The Journal on Thursday, Jerzyk said the DBR had "positively responded and made numerous changes to the regulations that my client supported."
For more than 10 years, Rhode Island farmers have been asking the state Department of Environmental Management for permission to grow hemp, knowing the plant was an excellent cover crop for replenishing tired soil.
But whenever DEM officials asked their federal agricultural counterparts for guidance, they were told any state action that contradicts federal law could cost Rhode Island federal money, said a DEM spokesman. And so those requests were denied.
Richmond turf farmer John Partyka has for years experimented with rotating different crops through his hundreds of South County acres to help preserve his soil. "Turf is a depletion process," said his daughter Sarah. "A little bit of soil goes down the road with every harvest."
As stewards of the land, they see the current chance to grow hemp worth considering, she said.
"If it has both a medicinal purpose as well as something that would be a good crop for the land, we would definitely be interested in learning more about it."
Content from: http://www.providencejournal.com/news/20180930/hemp-will-be-cropping-up-on-ri-farms.