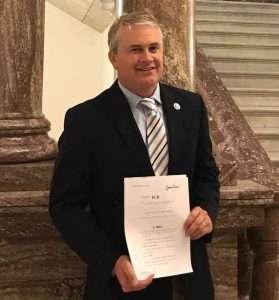 On Friday Rep. James Comer (R-KY) introduced H.R. 3530, a new version of the Industrial Hemp Farming Act along with 15 cosponsors. The bill gained support from Judiciary Chair Goodlatte (R-VA) and has several new provisions. We are excited about the added support which opens up a path for passage in the House this year. We are also pleased that several changes we advocated for were included in the new bill: inclusion of Native American tribes and a provision which will allow for research on hemp with THC levels of up to 0.6% THC (we advocated for more but this was the compromise). 
We did our best to work with the bill sponsors to ensure that the bill would give states the authority to regulate hemp production and support all sectors of this growing industry. 
However, we are concerned with, and opposed to, several new provisions which were added to the bill and that we will work to remove or amend.
Administrative Inspections – a provision was added to allow DEA to conduct "administrative inspections" of locations where there is "production, storage, distribution, or use" of hemp. This provision is overly broad and only excludes a "retailer or end user."  The previous version of the bill, authored by Rep. Massie, trusted states to regulate and we feel that approach was correct. The DEA has obstructed the Farm Bill hemp program at every turn and should not be trusted to have a regulatory role. Furthermore DEA inspections would be inappropriate given hemp is an agricultural commodity.
Next a provision was added that will unreasonably restrict the processing of hemp extracts: "The term does not include any such plant, or part or derivative thereof, that has been altered so as to increase the delta-9 tetrahydrocannabinol concentration above the limits specified" (above 0.3% THC). The previous bill language limited finished products to 0.3% THC but did not restrict extraction or processing that temporarily alters cannabinoid levels prior to formulating a final product. If included in the final bill which is signed into law, this change will harm the nascent American CBD industry.
Finally a provision was added stating "Nothing in this Act, or the amendments made by this Act, may be construed-

(1) to alter the provisions of the Federal Food, Drug, and Cosmetic Act that pertain to an unapproved, adulterated, or misbranded drug or food." Given that the FDA has taken the position that CBD is a controlled substance (the industry disagrees and is challenging this in the Ninth Circuit Court of Appeals), this provision is an impediment and unnecessary. 
We look forward to working with House and Senate members to amend the bill so that these harmful and restrictive provisions are changed or removed.  
We congratulate and thank Rep. Comer, Rep. Polis and Rep. Massie who have worked hard to support the industry and come up with the best bill possible. We recognize that compromise is part of the political process, however we are committed to passing legislation that will will help the hemp industry grow and allow states, not the Federal Government, to regulate this crop. 
We sincerely appreciate your ongoing support which allows us to continue our work and to keep you informed.