The production and marketing of industrial hemp would be authorized in Iowa in compliance with federal law under a bipartisan bill passed Wednesday by the Iowa Senate.
The Senate approved Senate File 2398, titled the "Iowa Industrial Hemp Act," on a 49-0 vote, sending the measure to the House.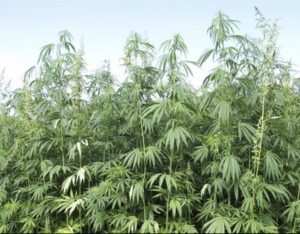 Supporters of industrial hemp have long touted its production in Iowa. Tens of thousands of acres of hemp were raised in Iowa during World War II. The plant can be used in a wide range of products, including fibers, textiles, paper, construction and insulation materials, cosmetic products, animal feed, food, and beverages.
The Iowa Legislative Services Agency said the bill responds to action by Congress that allows universities and state agriculture departments to begin cultivating industrial hemp for limited purposes of research in an agricultural pilot program. The federal bill also specifies that participating states must enact laws to allow for the growing or cultivating of industrial hemp.
Both Republicans and Democrats praised the bill. Sen. Jerry Behn, R-Boone, said he's been trying to pass similar legislation since the late 1990s, and Sen. Tom Shipley, R-Nodaway, suggested that hemp offers the types of opportunities for Iowa farmers that they have received from growing soybeans.
"There are a lot of possibilities out there, and we just need to get out of our own way," Shipley said.
While hemp and marijuana products both come from the cannabis plant, experts say hemp is typically distinguished by its use, physical appearance and lower concentration of tetrahydrocannabinol, or THC, the psychoactive ingredient in marijuana. The bill was amended by the Senate to specify that the industrial hemp must be regularly tested to ensure it does not exceed allowable THC levels.
In addition, the legislation specifies that industrial hemp may not be used to produce medical cannabidiol, a cannabis compound with medical benefits.
The bill creates two state initiatives: the Industrial Hemp Commodity Program, administered by the Iowa Department of Agriculture and Land Stewardship, and the Industrial Hemp Production Program, administered by a Board of Regents institution.
In addition, the legislation creates an industrial hemp council comprised of public members and representatives of government entities, and four nonvoting legislative members. The Department of Agriculture and Land Stewardship is required to submit an annual report evaluating the success of the two programs.
Sen. Kevin Kinney, D-Oxford, said he looks forward to Gov. Kim Reynolds signing the legislation.
"Everyone in the Legislature talks about supporting rural areas and small towns in this state. I think that this would be a big step toward," Kinney said.
Sen. Herman Quirmbach, D-Ames, who is an economist at Iowa State University, said Iowa needs to develop new agricultural products and new markets.
"The days of $7 corn have long disappeared," he said, referring to per bushel commodity prices. He added, "Industrial hemp would be appropriate."
Thirty-four states have passed legislation related to the production of industrial hemp and 27 states have passed laws creating or allowing for the establishment of industrial hemp research plots or pilot programs to study the cultivation, processing, and economics of industrial hemp, according to the National Conference of State Legislatures.
Content retrieved from: https://www.desmoinesregister.com/story/news/politics/2018/04/04/iowa-hemp-production-marketing-iowa-senate-legislation-senate-file-2398/484563002/.