HAWAII (HawaiiNewsNow) – Hawaii officially became part of the industrial hemp industry last month after issuing its first hemp grower licenses to three farmers in the islands.
The licenses are being doled out as part of the state's industrial hemp research and cultivation program, Hawaii's first step toward turning hemp into profit.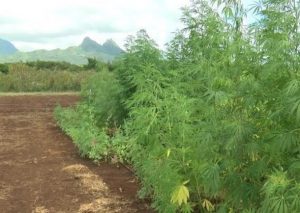 The grower licenses, issued to farmers on Kauai and the Big Island, will be valid for two years — or as long as license holders comply with the rules of the program.
Growers are allowed to sell the hemp they grow, but will be required to submit reports on planting, harvesting and the movement of the products. It can take anywhere from three to six months for the first harvest to pop up, according to officials with the Department of Agriculture.
It's important to note that while industrial hemp and marijuana are both members of the same plant species, it is not possible to get a chemical high from industrial hemp.
Some believe that the pilot program will open doors that could prove lucrative for the state.
"The potential here in Hawaii is just enormous when you look at 25,000 different products … made from this miracle plant," said state Sen. Mike Gabbard, back in May.
So far 10 potential hemp farmers have sent applications since the program began in April, and three have been given licenses. DOA officials say applications will continue to be reviewed on a quarterly basis.
Hopeful Hawaii hemp farmers can apply for the program here.
"With this new agricultural crop, the program aims to monitor and assess the best methods of cultivation in Hawaii's growing conditions," said Scott Enright, chairperson of the Hawaii Board of Agriculture, in a statement.
"The program will also follow the crop from seed to the development, manufacturing and marketing of hemp products," Enright said.
Licensed hemp growers in the pilot program are required to pay $250 a year, as well as a $2 per acre assessment.
"Hawaii's first licensed hemp growers will help to demonstrate the real potential of the industrial hemp industry," said Gov. David Ige, in a statement.
"We look forward to the entrepreneurial spirit that will help to invigorate and strengthen agriculture across the state," Ige said.
Content from: http://www.hawaiinewsnow.com/story/38590883/hawaiis-first-industrial-hemp-licenses/.