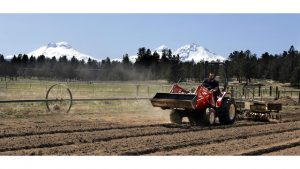 Harrisburg, PA – Federal legalization of hemp could be a cash cow for Pennsylvania farmers.
The farm bill approved by Congress last week removes hemp from the list of federally controlled substances.
Hemp was once a tremendously important crop in Pennsylvania, but it was federally outlawed in 1937 because, like marijuana, it comes from the cannabis plant. Hemp, however, is low in THC, the compound that gives pot its high.
The U.S. government loosened restrictions on hemp production in 2014. A limited number of Pennsylvania farmers have been growing the crop for research purposes since 2017.
"We have some really enthusiastic growers who believe in hemp and believe in its possibilities, and they've seen what they can do with it," state Department of Agriculture spokeswoman Shannon Powers said.
In 2018, the state allowed up to 50 growers to plant and harvest up to 100 acres of hemp.
"They're researching things like proper growing conditions, how it could be harvested, all that 80 years of information we're missing since hemp's been gone from our landscape for 80 years," Powers said.
Federal legalization will allow hemp farmers to buy crop insurance, write off business expenses on their taxes, and ship across state lines without fear of prosecution.
Hemp is used for manufacturing products such as paper, cloth, rope, and building materials. There's also growing demand for a non-psychoactive compound found in hemp. Supporters say cannabidiol, or CBD, has a wide range of health benefits.
"It's a crop that can be used for fiber, for auto parts, it's for concrete," Powers said. "It can make all kinds of things, and it just has immense possibilities."
President Trump is expected to sign the farm bill into law this week.
Content retrieved from: https://www.pahomepage.com/news/pennsylvania-farmers-see-opportunity-in-federally-legal-hemp/1663586243.