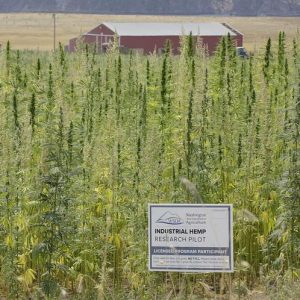 The number of licensed hemp farmers in Washington has more than doubled since May, according to the state Department of Agriculture.
As of Tuesday the department had issued licenses to 87 growers, compared to 35 in late May. The state has issued another 18 licenses to processors. Many farmers have combination licenses to grow and process hemp.
The department is reviewing about 30 more applications and expects to eventually issue approximately 150 hemp-related licenses this year, spokesman Chris McGann said.
Washington's hemp industry is still small compared to several states, including Oregon. The growth, however, firms up a once-shaky program. Washington's hemp crop last year was 140 acres cultivated by the Colville tribe in northeast Washington.
This year, farmers have registered to plant 6,700 acres, not counting greenhouses. Several large Eastern Washington farms have obtained hemp licenses.
McGann said the department anticipates the hemp program will become self-supporting. Lawmakers this spring sent the department $212,000 to avoid massive increases in license fees paid by farmers.
"We don't expect to have to go back to the Legislature," McGann said. "All expectations are, yes, it will be sustainable."
The 2018 Farm Bill took hemp off the federally controlled substance list. The federal government still requires states to license and inspect hemp farms.
Oregon has added 300 licensed hemp farmers in the past seven weeks and now has 1,642, according to the Oregon Department of Agriculture. Farmers have registered to plant 53,573, almost a fivefold increase over last year when the state licensed 584 growers.
The USDA is expected to propose national hemp regulations in the fall. Agriculture Secretary Sonny Perdue said after touring a Kentucky hemp farm July 2 that the crop's connection with marijuana has not been entirely severed yet.
"I think what I heard was a lot of opportunity, but a lot of challenges needing a federal framework to help guide the progress of this crop," he said. "We heard about financial transaction issues where this crop is conflated with its illegal cousin in many states."
Industrial Hemp Association of Washington lobbyist Bonny Jo Peterson said the state's first full-fledged hemp season has been marked by "mishaps and hiccups" as farms try to find the right seeds and equipment.
"I think too many farmers went too big, too quick," she said. "There's going to be a lot of trial and expense and unfortunately a lot of lost crop.
"If you're not ready to go now, wait until next year. Learn from other people's experiences."
Peterson said farmers who plan carefully will be in better position to survive if the CBD oil boom busts. CBD oil is marketed for a wide variety of ailments. The Food and Drug Administration is examining claims about the extract's benefits.
Washington collects an annual $450 application fee from hemp farmers, plus $300 for a one-year license. Farmers must pay another $200 for each additional field, plus testing fees.
The Washington Department of Revenue has said it will tax hemp like any other agricultural product. Hemp growers are eligible for tax breaks available to other farmers, according to the department.
Content from: https://www.capitalpress.com/ag_sectors/livestock/washington-hemp-industry-grows-but-not-as-fast-as-oregon/article_29497a82-a27b-11e9-aeb3-df13163157ae.html.