WASHINGTON, D.C. — Vote Hemp, the nation's leading grassroots hemp advocacy organization working to change state and federal laws to allow commercial hemp farming, has released estimates of the sales and market growth for hemp-derived CBD products. According to "The CBD Report," Hemp Business Journal estimates total retail sales of hemp-derived CBD products in the United States will exceed $646 million by 2022. A projected $184.3 million of those consumer sales take place in the natural product and specialty market channel, with many of the leading brands in that channel exhibiting at Natural Products Expo East. Since the passage of the 'Legitimacy of Industrial Hemp Research' in the Farm Bill in January of 2014, hemp-derived CBD product sales in the U.S. have experienced nearly 440% sales increase, with current data demonstrating $264 million in sales in 2018 , and $57.5 million of those sales occurring within retail stores in the natural product and specialty market channels.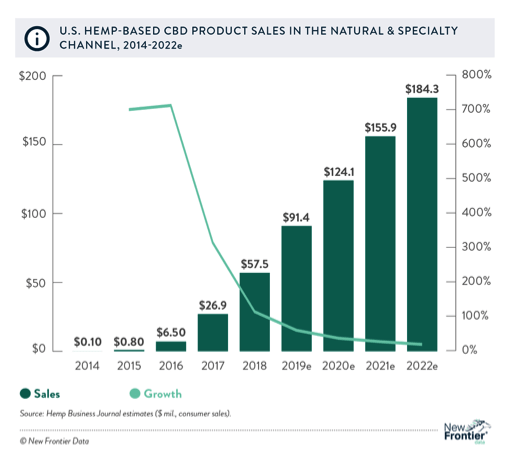 To view "The CBD Report: 2018 Industry Outlook" in its entirety, please visit: https://newfrontierdata.com/product/cbdreport2018/.
Currently the Hemp Farming Act has been included in the Senate version of the Farm Bill now being negotiated, and is well poised to become law in 2018, with the passage of the "must pass" bill. If passed, the bill would place federal regulatory authority of hemp solely with USDA and require State departments of agriculture to file their hemp program plans with USDA but allow them to regulate hemp cultivation per their State specific programs. In addition to defining hemp as cannabis that contains no more than 0.3% THC by dry weight, the bill asserts a 'whole plant' definition of hemp, including plant extracts; and would remove roadblocks to the rapidly growing hemp industry in the U.S., notably by authorizing and encouraging access to federal research funding for hemp, and remove restrictions on banking, water rights, and other regulatory roadblocks the hemp industry currently faces. The bill would also explicitly authorize crop insurance for hemp. The full text of the bill may be found at: https://www.votehemp.com/hempfarmingbill.
To date, forty states have defined industrial hemp as distinct and removed barriers to its production. These states are able to take immediate advantage of the industrial hemp research and pilot program provision, Section 7606 of the Farm Bill: Alabama, Alaska, Arizona, Arkansas, California, Colorado, Connecticut, Delaware, Florida, Hawaii, Illinois, Indiana, Kansas, Kentucky, Maine, Maryland, Massachusetts, Michigan, Minnesota, Missouri, Montana, Nebraska, Nevada, New Mexico, New Hampshire, New York, North Carolina, North Dakota, Oklahoma, Oregon, Pennsylvania, Rhode Island, South Carolina, Tennessee, Utah, Vermont, Virginia, Washington, West Virginia and Wyoming.
###
Vote Hemp is a national non-profit organization dedicated to the acceptance of and a free market for industrial hemp and to changes in current law to allow U.S. farmers to once again grow hemp commercially.