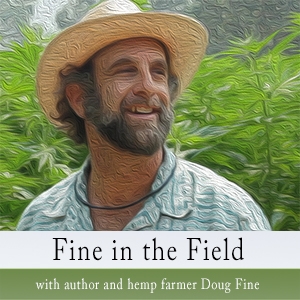 My fingers are dirty as I type here on the Funky Butte Ranch in New Mexico. The good kind of dirty: humus. Mycelium. Goat poop. It's planting season again, and I'm prepping soil with my family. The main reason I'm out in the field, one of the one percent of Americans who are farmers these days? Hemp is a superfood, and I like the feeling of the humans and goats I care about most having superfood security.
Yes, I'm working to develop a hemp product. I also enjoy helping other projects – private, academic, governmental and non-profit. But really, the reason I live in a place so remote that I don't see a heck of a lot of different between life now and life six months ago is that, like the Ingalls family in Little House On the Prairie, I like to work towards weaning from dependence on, well, anybody.
And yet we're all in this together. And this is why I take genuine joy in celebrating the twentieth anniversary of the Vote Hemp advocacy organization. Since back well before it was a certainty that the legalization we're all enjoying today was a reality, Eric Steenstra and team were pounding the hallways of congress, chipping away at the insanity of cannabis/hemp prohibition. I'll never forget first meeting Ben Droz, who was one of the organization's key lobbyists, on the beat with his hemp blazer and hemp briefcase, speaking the truth to senate staffers who stifled smiles at his enthusiasm for a cause they (and maybe I'm projecting here) believed was a lava lamp dream, rather than an essential building block in rural America's renaissance. And I was aware of Eric's entrepreneurial work in the industry before I knew about his advocacy work – many folks don't know he co-founded the pioneering Ecolution company back in 1992 with another cannabis/hemp legend, Steve DeAngelo. Next time you run into Eric, ask him about touring Hungarian hemp factories just after the fall of the Iron Curtain.
Here in the home field, another reason I relish every moment amongst the bees and hummingbirds is that I've just finished an intense couple of years' research for a new book that had me not just growing hemp in multiple states, but learning how to process it – my feeling being that if you're going to be a pundit, you probably are wise to actually attempt to perform the topics about which you are writing. And let me tell you: hemp ain't a get rich quick scheme. But it is the most fun you can have outside the bedroom. Each month in this column I'll delve into the travails and triumphs of the new players in our burgeoning industry, my own and others', because, guess what? We're all (with a very few exceptions) new players. Sometimes we'll talk about field nuances, sometimes policy, sometime marketing and other economic forces.
We've got our work cut out for us. For one thing, we've got to get the federal definition of hemp changed to one percent, pronto, before the recent USDA Interim Final Regulations kick in in October. Many of us know the reasons for this, but to keep it short and sweet: when up to 40% of an industry's players – let alone a soil-building, humanity-saving industry's players – have to destroy their product before it reaches market due to a relic of an absolutely arbitrary war that we've won, that is a policy that needs to change. The good news is that most everyone realizes this.
But I think that, as the sun sets here on the Ranch, with my human kids' homeschool lessons done, and the hemp seed going on the salad as usual, this is also the time to reflect on the positive: hemp is back. It's the fastest agricultural industry ever to cross the billion dollar in annual revenue mark. We're going to win every policy battle until our crop is as easy to cultivate as tomatoes. You know why? Because this time, the Farmers are in Charge.
Along those lines, I'd like to conclude this first column with a snippet from the new book, American Hemp Farmer, by way of cheerleading:
The endgame is a return to how this plant has been treated for 8,000 years: as a valuable multipurpose crop whose cultivation must be maximally encouraged and minimally regulated. In other words, we're doing this gold rush differently. If there's an element of initial federal cannabis policy or a state hemp regulation that we don't like, we'll have it changed…anytime someone's initial reaction to a regulatory protocol we farmers propose is, "But that's never how the agriculture system has been regulated before," a good reply is, "How's that been working out for the planet's farmers and soil?"
If (any) essential policies are in danger of being rejected in initial plans (on the state or federal level), it just means our public servants haven't heard from nearly enough independent farmers yet. We'll fight until we win. That's the only way to rebuild soil and rural America.
About Doug Fine
Doug Fine is a comedic investigative journalist, bestselling author, and a solar-powered goat herder. He has cultivated hemp for food, farm-to-table products and seed-building in four U.S. states, and has taught several hemp classes. Willie Nelson calls Doug's work "a blueprint for the America of the future." The Washington Post says, "Fine is a storyteller in the mold of Douglas Adams." A website of Doug's print, radio and television work, United Nations testimony, and TED Talk is at dougfine.com and his social media handle is @organiccowboy. His latest book is American Hemp Farmer: Adventures and Misadventures in the Cannabis Trade (Chelsea Green Publishing, April 2020).