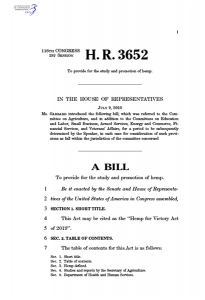 Rep. Gabbard (D-HI) introduced H.R. 3652, the Hemp For Victory Act which lays the foundation for the emerging hemp industry in a manner that incentivizes family farmers and small businesses, protects against corporate monopolies, and studies the benefits of hemp cultivation and hemp-based products while ensuring safe agricultural practices, and environmental and labor considerations.
Vote Hemp strongly supports the bill and believes this is the kind of legislation needed to help the nascent hemp industry build a solid footing. We are proud to have helped draft the bill and intend to continue advocating for legislation that will move the hemp industry forward. You can view the full bill here.
Please take action now and urge your Representative to cosponsor the bill.
Below are details on the provisions in the bill.
U.S. Department of Agriculture
Establish a grant program for universities to "conduct research on establishing. hemp as a domestic agricultural commodity."
Study the nutritional value of hemp foods, drinks and supplement products.
Study whether such hemp products could be used as "low-cost healthy alternatives" for public school lunches for low-income students.
Research whether items being used by the federal government its contractors could be substituted by hemp-based products.
Study the potential of hemp "for soil erosion control and as a windscreen."
Create guidance for cultivating organic hemp.
Designate hemp as a "high priority research" crop eligible for grants that would be used to "develop and disseminate science-based tools and treatments to combat noxious species that impact hemp farms, and to establish and areawide integrated pest management program."
Research the economics of the international hemp market.
Study the "use and presence of agricultural chemicals and pathogens" in hemp to inform public safety standards.
Make hemp available for grants to conduct research "on the cultivation of hemp as a commodity, including production guidance for underserved and rural communities and technical assistance for available grants."
Integrate hemp into market research publications.
Study how to create "buffer zones" between marijuana and hemp farms to avoid cross-pollination.
U.S. Department of Health and Human Services
Study the "presence of pathogens in hemp-based and hemp-blended products and their impact on the health and safety of consumers."
Study whether hemp can be used as a substitute for health care industry products used to deliver, create, store or administer prescription drugs.
Small Business Administration
Develop guidance manuals for individuals interested in creating a small business, "which will focus on Native Hawaiians, Indian Tribes and veterans."
U.S. Department of Defense
Study what items used by the DOD could be substituted with hemp.
Study the impact of using hemp and derivatives such as CBD "on military preparedness."
Study the use of hemp as an "alternative to current health supplements with regard to the armed forces deployed in support of contingency operations, and its effect on preparedness, physical and mental health, and safety," which includes active and non-active service members diagnosed with conditions such as post-traumatic stress disorder and chronic pain.
Study hemp's potential to "clear contaminants from nuclear sites and heavy metal contamination."
U.S. Department of Labor
Issue a report on the application of federal laws in states with hemp programs to "ensure the health and safety of individuals working in the hemp industry."
Issue a report on the application of federal laws in states with hemp programs to "ensure fair, equitable and proper treatment of individuals working in the hemp industry."
U.S. Environmental Protection Agency
Study how the cultivation of hemp can assist in weed control, reducing ecological damage, detoxifying carbon dioxide and preventing soil erosion.
Study how hemp can be used to "clear impurities in water, wastewater, sewage effluent and post-disaster relief due to flooding or animal waste."
Study whether hemp could be used as a substitute for certain plastics and also research whether such a substitute could reduce "landfill waste and ocean pollution."
U.S. Department of Housing and Urban Development
Study the the use of hempcrete for affordable and sustainable housing.
U.S. Department of Veterans Affairs
Study the potential benefits of hemp in the treatment of conditions such as post-traumatic stress disorder, chronic pain, depression and anxiety among veterans.