Dear Reader,
Many people still have the image in their minds that those who run hemp companies are neo-Luddites, and that the farmers who supply them with their raw materials sow the seed by hand on small plots and harvest the grain or fiber with horse-drawn equipment. This may come to pass again in the future, but for now farmers, manufacturers, distributors and consumers are all part of a complex and modern system. I also work for a company that distributes all kinds of industrial supply parts from companies such as Grainger, John Deere, McMaster-Carr, Motion Industries, MSC and Timken. It often strikes me that the hemp industry is also part of this massive supply chain. We are far from being part of the "counterculture." As The Oregonian story on Living Harvest shows, we are indeed becoming more a part of the mainstream every day.
Traditional industries in the U.S. and around the world are embracing the benefits of using hemp in their products. I was reminded of this again earlier this week when Reuters reported that visitors at the British International Motorshow in London viewed a prototype of the Lotus Eco Elise which is made with the equivalent of 1,700 recycled aluminum cans and with hemp grown locally in Norfolk (comprising 25% of the car). It also has solar panels on the roof to help power its electrical system. While the car is not a high-torque electric tractor running off solar panels and farming local, organic, sustainable crops, it does push the envelope of industrial design. That in turn helps get us closer to that future by educating the media and the public about what is truly possible and attainable.
As wonderful as it is to imagine and work towards a future where industrial hemp is grown locally to meet our needs for food, clothing, shelter and transportation, reality does have a way of rearing its ugly head when you least expect it. Anna Korakaki found this out in Athens, Greece last week in a nightmarish scene where she was arrested for receiving 4.5 kilos of hemp protein powder at her local post office and was then forced to spend the night in a jail cell. All this because she was creating superfood recipes for her new natural foods company.
We have come a long way in the last fifteen years through educating farmers, legislators, the media, businesses and consumers, but it is obvious that we still have a long way to go, and we need your help to do it.
Please make a generous contribution to Vote Hemp today to help us continue fixing the situation here in the U.S.
We need and truly appreciate your support!
Best Regards,
Tom Murphy
Hemp News Update Editor
Hemp News Update Stories
Living Harvest Has a Hit with Hempmilk

By Jonathan Brinckman
The Oregonian
July 27, 2008
Drink a glass of hemp milk made by Living Harvest. Sit back, and wait.
Nothing happens.
Yes, the hemp milk is made from the hulled seeds of Cannabis sativa, the very plant featured in the 1936 cult classic "Reefer Madness." But these seeds are from industrial hemp, bred virtually free of the THC that powers its disreputable cousin.
Rather, it's the seeds' nutritional cocktail — including a complete protein, vitamins and Omega-3 and -6 fatty acids — that helped propel the Northwest Portland company's sales to a projected $6 million this year, double that of 2007. The numbers also speak to the product's migration into the mainstream — a point accentuated by the fact that Fred Meyer carries it in about half its 129 grocery stores.
Naturally Advanced Technologies Lands on Toronto Stock Exchange

Portland Business Journal
July 8, 2008
Naturally Advanced Technologies, Inc. — a company with the exclusive license to commercialize an enzyme-treated hemp fabric — has raised $1.98 million as part of a new stock offering on the Toronto Stock Exchange.
The Vancouver, B.C.-based company's common shares began trading on July 8 under the symbol "NAT" on the Canadian stock market's venture exchange, created to provide venture companies with access to capital while protecting investors.
Naturally Advanced Technologies has strong ties to Portland. Ken Barker, a partner at Portland's The Meriwether Group venture capital firm and former head of apparel for Adidas America, has for two years served as CEO of the company.
The company wants to bring new hemp fabrics and other hemp-based products to market.
Cannabis Growing Offers Pot of Gold for Farmers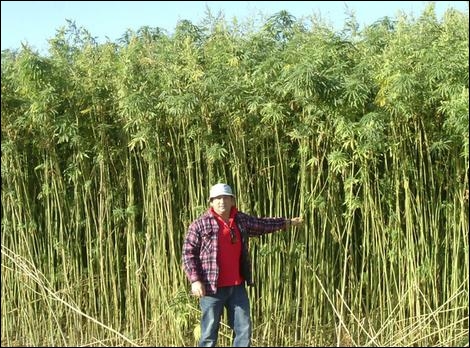 Griffith farmer Pat Calabria with hemp crop.
Photo credit: Sydney Morning Herald.
By Frank Walker
Sydney Morning Herald
July 13, 2008
NSW farmers could be growing cannabis by spring with the approval of the Iemma Government — but this marijuana can't be smoked to get high.
It will be a variety of the cannabis plant containing tiny levels of tetrahydrocannabinol (THC), the chemical that puts the pleasure in pot.
Smoke this Government-approved cannabis, and all you'll get is a cough. The Government has just passed the Hemp Industry Act allowing farmers to grow industrial hemp under licence.
Patchouli Power! Lotus Goes Green with Eco Elise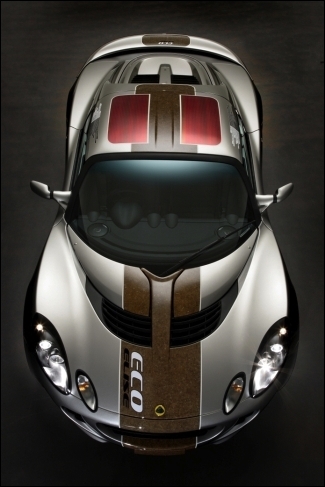 By Stuart Schwartzapfel
Autopia from Wired.com
July 15, 2008
The engineering superheroes at Lotus have churned out yet another iteration of the street-legal go-cart we call Elise. Aptly named "Eco Elise," the concept based on the Elise S will hit 60 mph in less than 5.8 seconds yet treads lightly thanks to its use of sustainable materials and across-the-board cuts in the energy needed to build it.
The Elise S is already mighty efficient considering the grins it can produce — 34 mpg (combined), 196 g/km CO2 emissions and a dry weight of 1,896 pounds. New to the party are renewable materials like hemp, eco-wool and sisal in some body panels and interior trim. Water-based paints reduce pollution during the painting process. Lotus rolls out the concept vehicle next week at the 2008 British Motor Show.
Considering current gas prices, Lotus founder Colin Chapman may have been looking into a crystal ball when he founded a sports car company shouting "performance through light weight" from the rooftops. Ditching unneeded heft is a sure way to up the performance ante and reduce complexity, but it also improves fuel economy.
[More...]
Join the HIA!