Dear Reader,
This being a presidential election year seems to accentuate the political nature of many things. Hemp remains in the position that it's in here in the United States not because of any difference of opinion based on facts, but because of politics. We started the legislative season this year with five bills carried over from last year, and because of election politics we did not expect any new legislation to be introduced. In The Hemp News Update earlier this year, I stated that we had high hopes for H.267, the hemp farming bill in Vermont. Late last week, after years of hard work by many people, politics very nearly killed the bill.
Supporters of Vote Hemp and the agricultural policy non-profit Rural Vermont made sure that the bill moved out of committee and got the floor vote in the Vermont Senate that it deserved after passing in the House by a vote of 126 to 9. The Senate vote late last Thursday was 25 to 1!
A lot of people seem to think that the legislative process is too arcane, that it's too hard to understand, and that they can't make a difference. They are wrong. You can and do make a difference! Vote Hemp and Rural Vermont sent out a series of Action Alerts last week asking supporters of the hemp farming bill in Vermont to call key Senators. Our featured story "Senate Passes Bill Legalizing Industrial Hemp Cultivation" and the Bennington Banner story "Hemp Bill Moves to Full Senate Vote" clearly confirm that focused action works.
If you live in Vermont, the next step is to call Governor Douglas and write letters to the editor. (Vermonters only, please!) It is important as a "pocket-veto" is not an option for the Governor. Others can still register to vote and click here to write your Representative in Congress and ask him or her to co-sponsor HR 1009, the Industrial Hemp Farming Act of 2007, which is currently stalled in committee.
Of course, this kind of advocacy and timely action requires money. Please make a contribution to Vote Hemp today to help us continue our work and bring hemp farming back to America.
We need and truly appreciate your support!
Best Regards,
Tom Murphy
Hemp News Update Editor
Hemp News Update Stories
Hemp Shorts:

Food Review: Hempmilk
A nice review of Living Harvest's Hempmilk in FitSugar.
Hemp Milk Review
Sheree Welshimer of BellaOnline also has a nice overview of hemp milk products.
Ottawa to Fund B.C. Hemp Plot Trials
The Manitoba Co-operator reports that the District of 100 Mile House is receiving $235,665 for the launch of a hemp production pilot project.
Pass the Hemp
An editorial in the Bennington Banner urges the prompt passage of H.267, the Vermont hemp bill.
Sowing the Seeds for Hemp's Future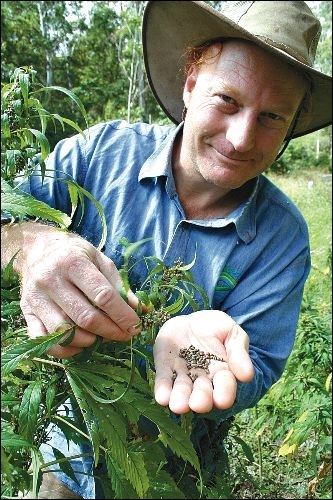 Dr. Keith Bolton. Photo credit: The Northern Rivers Echo.
By Luis Feliu
The Northern Rivers Echo
April 16, 2008
The age of hemp is here — or at least returning to its rightful place as one of the most useful plants known to man.
But it's not the much-maligned, recreational variety of hemp or Cannabis which Nimbin is world famous for, but the high-fiber industrial hemp (low in the psychoactive ingredient tetrahydrocannabinol, or THC) which many farmers in NSW have been waiting years to be allowed to grow.
That time has now come, with the state government last week announcing it would introduce a new licensing scheme for the commercial growing of hemp, bringing NSW into line with other Australian states now developing an industrial hemp industry.
Lecture Theater to Have Hemp Walls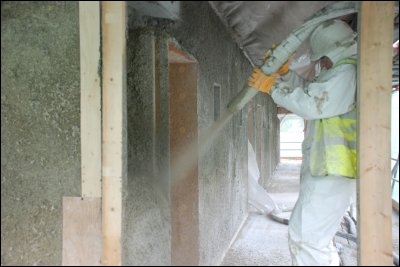 Green Building Press
April 25, 2008
Walls built with hemp will be a major feature of a new building at the Center for Alternative Technology (CAT). The innovative mixture of hemp stalks, lime and a small quantity of cement (known as 'Hemcrete') produces less carbon emissions than conventional concrete — cement is fired at high temperatures, a very energy-intensive process.
The walls are part of the new Wales Institute for Sustainable Education (WISE). CAT is building the £6.2million training and conference venue to extend its courses in sustainable technologies, including courses in solar power for electricians right up to masters courses in sustainable architecture.
Builders are spraying the Hemcrete material onto heraklith (or woodwool) boards attached to the inside of the timber frame. The walls on the WISE building will be 500mm thick, providing a high degree of insulation and air tightness whilst remaining breathable. The walls will be finished inside and out with a lime render.
HIA Featured Member - Wilderness Poets

Wilderness Poets founders Mika Kakizaki and John Bannerman have shared a passion for living, nutritious, organic foods for many years. Their favorite food was hemp nuts, and Mika was well aware of hemp's unsurpassed nutritional value. They started grinding and blending other seeds and nuts with hemp in their kitchen. Soon their hemp nut butters were being devoured on fruit, oatmeal and waffles. These butters are also a perfect creamy base for nutritious, raw dips and sauces. Friends and family caught on. Everyone wanted to know what to call it.
As a middle school teacher, John had been using ancient and historic poets in the classroom to inspire his students. Now he uses each jar lid to share the stories of these "wilderness poets." Poets have a special way of whittling things down to their bare essence. The planet is at its highest state in the wilderness. Hemp has the ability to nourish people and return "wilderness" to the planet. Wilderness Poets is thus a metaphor for hemp itself.
Wilderness Poets sold their first jars of Hemp Seed Nut Butter to a local food co-op in Portland, OR and began offering samples at community events and farmers markets. New Seasons Markets (Portland's largest natural food chain) and Whole Foods soon followed. They have recently moved into a certified organic kitchen where they make their nut butters in small artisan batches. Drop them a line, as they would love to send you samples! Wilderness Poets also ships wholesale cases direct to anywhere in the U.S.
[If you are a member of the HIA and would like to have your company featured here, please submit a small selection of graphics and a profile of no more than a few paragraphs to tom@thehia.org, or call 207-542-4998 for more information. Space is limited and is first-come, first-serve. Your member profile will be seen in The HIA Member Newsletter, as well as here in The Hemp News Update which is read by thousands of subscribers.]
[Vermont] Senate Passes Bill Legalizing Industrial Hemp Cultivation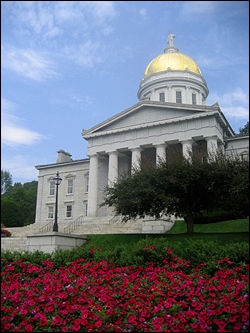 By Peter Hirschfeld
The Barre Montpelier Times Argus
May 2, 2008
MONTPELIER, VT — The calls came into the Statehouse at a furious pace Thursday morning, inundating the Senate Judiciary's voice mail with ardent votes of support for a bill stuck in committee.
The groundswell wasn't about the state budget, transportation, economic stimulus or other big-ticket must-haves this legislative session. Vermonters, it seems, want their hemp.
"I had 73 calls this morning," said Sen. Dick Sears, chairman of the Senate Judiciary Committee.
Sears, a Bennington Democrat, didn't have occasion to respond to the callers, but he did hear their message. And with some reluctance, Sears allowed the bill to pass out of committee and onto the Senate floor, where legislation legalizing industrial hemp cultivation in Vermont won nearly unanimous support.
[More...]