Dear Reader,
Election year politics are especially hard on hemp farming and study bill legislation. Minnesota had a hemp farming bill introduced in March of 2007 which was carried over to 2008, the second part of their two-year session. The bill was well-received and passed in two committees, but it was stuck in a third committee when the House adjourned, thus killing it.
An agriculture committee omnibus bill was introduced in the Minnesota House earlier this year that passed and included a section on "Industrial Hemp Development and Regulation." There was also a companion bill that passed in the Senate, but without the hemp language. The related section from the House bill was added to the Senate bill in conference committee, but was then removed at the insistence of the State Patrol and Governor Pawlenty's Washington, DC lobbyist. The omnibus bill was ultimately signed by the Governor, but without any hemp language.
We hope that the popular hemp farming bill in Vermont (H.267) does not suffer a similar fate. The bill passed the House in February by a vote of 126 to 9, and then passed the Senate by a vote of 25 to 1 earlier this month. We are awaiting word on when H.267 will be sent to Governor Douglas for his veto or signature. Unfortunately, the Governor's option to allow bills to become law without his signature was taken away this session when the Legislature adjourned without establishing a veto session.
There are still plenty of things to do while we wait. You can register to vote and then click here to write your Representative in Congress and ask him or her to co-sponsor HR 1009, the Industrial Hemp Farming Act of 2007, which is currently stalled in committee.
We are also looking forward to the next legislative season when we will have the opportunity to introduce or re-introduce hemp farming bills, study bills and resolutions on the state and federal level. All of this will take planning, coordination and funding. Please make a contribution to Vote Hemp today to help us continue our work and bring hemp farming back to America.
We depend on and truly appreciate your support!
Best Regards,
Tom Murphy
Hemp News Update Editor
Hemp News Update Stories
New Direction for Hemp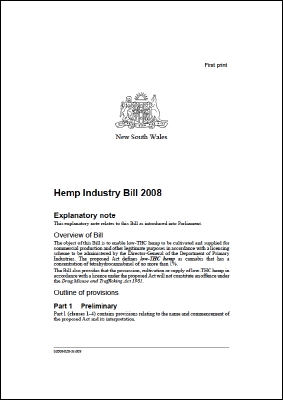 Queensland Country Life
May 14, 2008
Agriculture could take on a new direction, according to NSW Member for Barwon, Kevin Humphries, who this week pledged his support for the Hemp Industry Bill 2008.
Mr. Humphries said the bill would enable low-THC hemp to be cultivated and supplied for commercial production and other legitimate purposes.
Speaking to the Parliament, Mr. Humphries said he believed the hemp industry was a significant player as a fiber crop, with hemp already successfully grown in the Darling Downs and Wide Bay areas of Queensland.
Line Between Hemp and Marijuana Still Blurry to U.S.

By Olivia Radcliffe
The Lantern
Ohio State University
May 15, 2008
Weed, pot, hash, grass, hemp — all have been used as nicknames for marijuana. As studies increase, however, it turns out hemp and marijuana might not have as much in common as people think.
While technically a single species, Cannabis sativa — better known as marijuana — has evolved over the years to present two very different plants: industrial hemp used for its fiber and typical marijuana harvested for its hallucinogenic properties.
The question being debated is whether or not the agricultural benefits of hemp are enough to tip the scale in favor of legalizing production of the specific form of Cannabis sativa.
Point/Counterpoint - GOP Brought Leadership to House

Point:
Opinion by Rep. Steve Adams (R-Hartland)
Rutland Herald
May 15, 2008
As the leader of the minority party in the Vermont House, people often ask me whether I'm seeing more checks and fewer balances in the Legislature. With all the concern about the economy and job security, distractions over industrial hemp and plastic bag taxes left us all questioning the priorities of legislative leaders this session.
Point/Counterpoint - 'Boutique' Issues Also Important

Counterpoint:
Letter to the Editor by Robert N. Johnson
Rutland Herald
May 20, 2008
It is unfortunate that the Republican House minority leader regards the issues of industrial hemp and plastic bag taxes as "distractions" and "boutique issues" (May 15, "GOP brought leadership to House," by Rep. Steve Adams).
Hemp Catching on with NW Farmers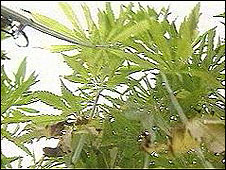 BBC News
May 20, 2008
Forget potatoes, wheat or barley ... hemp is the newest crop gracing the fields of the north west.
About a dozen farmers in County Londonderry have started to grow the plant — a variety of Cannabis — for its non-intoxicating uses.
The material is primarily used in the building industry, but can be found in everything from pharmaceuticals to food.
Robert Moore grows 300 acres of hemp at his farm at Ballougry outside Derry.
"I'm licenced from the department of health and from the police, and before anybody starts coming up to pinch some, you could smoke it from now to Christmas and it wouldn't give you any sort of charge.
"There is no drug value in it at all," he said.
[More...]